By Emily Schneider
Impunity Watch Reporter, Middle East
DAMASCUS, Syria – Syrian opposition is alleging that the Syrian government used a cluster bomb recently in an attack that killed ten children on a playground. After a lull in fighting, children were allowed outside for a rare moment of leisure on Sunday. That's when the fighter jets began to bomb the area.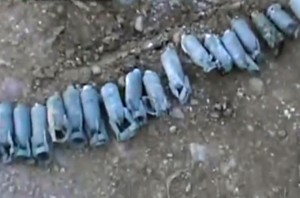 Deir al-Assafir recorded the aftermath of the attack in a video posted on YouTube. In that video, a woman stands over the body of a young child and curses Syrian President Bashar al-Assad and asks why the child had to die. The video opens by panning over what appear to be two bodies of little girls on the playground then shows two more bodies in a car. Viewers then see adults carrying what appear to be limp bodies of more children. One girl sits on the ground crying until an adult comes and picks her up. The video has spread rapidly over social media sites.
Alexia Jade, a spokeswoman for the opposition-run Damascus Media Office, said residents in Deir al-Assafir believe the attack was a retaliation effort on the part of the government for rebels taking over a nearby military airport. Rami Abdulrahman of the Syrian Observatory for Human Rights, however, said it's unclear what exactly happened or what the motivation was behind the attack.
"None of those killed were older than 15 years old. There are two women among 15 people wounded, mostly hit as they were inside the courtyards of their houses," Abu Kassem, an activist in the village told Reuters news agency.
"There were no fighters inside Deir al-Asafir when the bombing occurred. They operate on the outskirts. This was indiscriminate bombing."
According to al Jazeera reporter, Rula Amin, reporting from Beirut, "The residents in the village insist there was a lull in fighting. It's a village controlled by the opposition. They believe the government was doing this as a vengeance act as the rebels have been making significant advances around that area, in the eastern part of Damascus, taking control of more areas."
Activists claim cluster bombs were used in the attack on the playground, but this allegation has not been verified. Videos showed a row of what seemed to be unexploded small bombs, not necessarily cluster bombs.
Activists say at least 3,000 children are among more than 38,000 people killed since the uprising against President Bashar al-Assad's regime began in March last year.
For more information, please see:
Al Jazeera – Syrian Children 'Killed by Cluster Bombs' – 26 Nov. 2012
BBC – Syria Cluster Bomb 'Kills Ten Children' – 26 Nov. 2012
CNN – Opposition Says Shelling Kills Ten Children in Syria – 26 Nov. 2012
Gulf News – 'Air raid kills 10 children near Damascus' – 26 Nov. 2012
Author:
Impunity Watch Archive