By Emily Schneider
Impunity Watch Reporter, Middle East
DAMASCUS, Syria– "The regime started to fall and deteriorate. It's coming to its end," said retired Major General Adnan Sillou in an interview in a hotel near Antakya, Turkey. Sillou, a former top general in President Bashar al-Assad's Syrian forces, is now sharing what he believes might be President Assad's next move.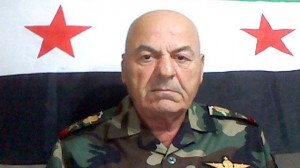 "It's highly possible that he'll start using [chemical weapons] to kill his own people because this regime is a killer," Sillou said.
Sillou told ABC News that he was the chief of staff on the defensive side of the chemical weapons program. In addition to his responsibilities in training soldiers in attacks and contact with chemical weapons, he procured safety equipment to help guard the forces against the weapons. In his most recent post, he was second in command to Said Ali Khalil, a member of Assad's ruling Alawite sect, an offshoot of Shiite Islam.
Syria does not officially acknowledge its chemical weapon program, but Sillou says the military has weapons that employ mustard gas, sarin, VW and tabun nerve agents. U.S. intelligence reports confirmed the presence of sarin as recently as last week. In fact, according to U.S. intelligence officials, sarin had already been mixed with its catalyst agent and loaded into bombs to await the final order from President al-Assad.
Sarin is an extraordinarily lethal agent. In 1988, Iraqi President Saddam Hussein used sarin in a single attack, killing 5,000 Kurds
"They're idiots, crazy. Simply they are killers," Sillou said of the Syrian regime. He believes that if Aleppo, Syria's most populous city, falls to the rebels President al-Assad won't hesitate to deploy chemical weapons.
U.S. Secretary of State, Hilary Clintong, has warned President Assad that if he used chemical weapons, he would "cross a red line."
Today, U.S. President Barak Obama took U.S. support of the opposition to the next level by announcing that the U.S. now recognizes the Syrian opposition as a legitimate representation of the country's people.
"We've made a decision that the Syrian opposition coalition is now inclusive enough, is reflective and representative enough of the Syrian population that we consider them the legitimate representative of the Syrian people," he told ABC's Barbara Walters. Britain, France, Turkey, and the Gulf Cooperation Council already recognized the opposition as legitimate.
But, as one U.S. official put it, if President al-Assad chooses to use chemical weapons, "there's little the outside world can do to stop it."
For more information, please see:
Al Jazeera – U.S. Recognizes Syrian Opposition – 11 Dec. 2012
CNN – Obama Recognizes Syrian Opposition – 11 Dec. 2012
ABC – Syria's Assad Will Use Chemical Weapons, Says Former General, Now Defector – 10 Dec. 2012
NBC – Syria Loads Chemical Weapons into Bombs; Military Awaits Assad's Order – 6 Dec. 2012
Author:
Impunity Watch Archive