By Samantha Netzband
Impunity Watch, Africa Desk Reporter
BANJUL, The Gambia–The Gambia's President-Elect Adama Barrow has left the Gambia for Mali as talks failed, and President Yahya Jammeh refused to relinquish power.  President-Elect Barrow will meet with West African leaders at a summit in Mali.  West African leaders as well as the African Union are calling for a smooth transition of power in The Gambia.  The African Union has publicly stated that they will not recognize President Jammeh as the legitimate leader of The Gambia should he continue to refuse to step down on Thursday, the day that President-Elect Barrow is set to take office.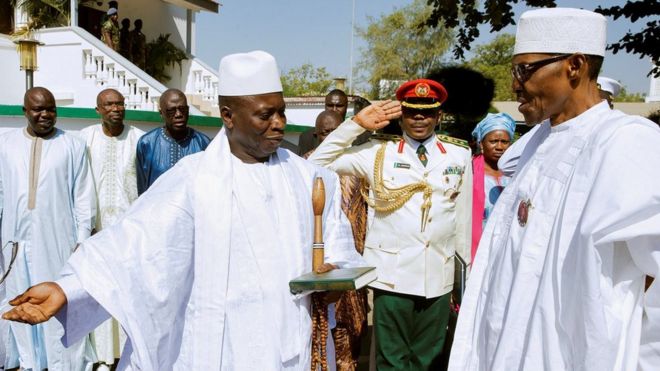 President Yahya Jammeh welcomes Nigerian leader Muhammadu Buhari, to the failed talks that took place late Friday in The Gambia. (Photo Courtesy of BBC Africa)
As talks failed in The Gambia, The Special Representative of the Secretary-General and the head of the UN Office for West Africa and the Sahel (UNOWAS), Mohamed Ibn Chambas, addressed the Security Council stating that although the region has seen democratic progress there is still political uncertainty in some states.  The Gambia is one of the West African nations that may face difficulty having a peaceful transition of power since President Jammeh has refused to accept the election results.  The Security Council thanked Chambas for his remarks and decided to remain seized in the matter.
President Jammeh is rejecting election results that are viewed as legitimate by many African nations.  President-Elect Barrow won the presidency by a large majority.  President-Elect Barrow will focus a large amount of his time at the Mali summit seeking help from West African leaders.  After the Mali summit West African leaders may ask Chambas, the Special Representative of the Secretary-General, to ask the Security Council to deploy troops to The Gambia in the event that President Jammeh does not step down.
For more information, please see: 
BBC Africa – Gambia dispute: African Union 'will not recognise' President Jammeh – 13 January 2017
BBC Africa – Gambia talks fail as president refuses to step down – 14 January 2017
UN News Centre – Amid progress in West Africa and the Sahel, UN envoy warns of region's political challenges – 13 January 2017
Yahoo News – Gambian crisis takes centre stage at Mali summit – 14 January 2017
Author:
Samantha Netzband