By Justin Dorman
Impunity Watch Reporter, Middle East
TUNIS, Tunisia – Popular secular politician, Chokri Belaid, was shot in the neck and head and killed just outside his home in Tunis, on his way to work, a couple of days ago. This was the first time a politician was assassinated in Tunisia since the Arab Spring uprising of January 2011. Today thousands of supporters attended his funeral while many others protested all throughout the country.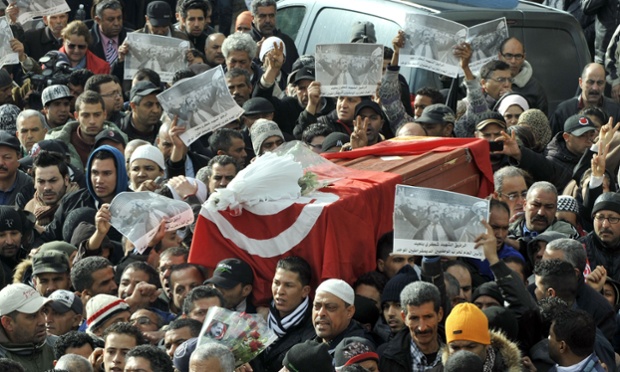 Belaid was a human rights activist and lawyer who was the co-head of the leftist Democratic Patriots Party. Although the party lacked much power in Tunisia, Belaid was seen as an outspoken critic of the government who, for many, symbolized the Tunisian revolution.
French President Francois Hollande stated that, "[t]his murder robs Tunisia of one of its most courageous and free voices."
A day before his assassination, Belaid partook in a televised interview in which he blamed the moderate, Islamist Ennahda party for giving "an official green light" to political violence. He also claimed that Ennahda and Salafists attacked a meeting of his liberal supporters this past Sunday.
The prime minister, Hamadi Jebali, has promised to act swiftly in arresting the perpetrator of what he deems to be a terrorist act. President Moncef Marzouki said that, "[t]here are many enemies of our peaceful revolution. And they're determined to ensure it fails."
Despite not yet knowing who committed the murder, in the wake of Belaid's death, demonstrators have set an Ennahda party building on fire in Mezzouna. Others ransacked raided the party's offices in Gafsa where petrol bombs were used. At least half a dozen Ennahda buildings have been destroyed so far.
Additionally, crowds of protestors have been chanting "Ghannouchi, assassin, criminal" and that they want a "second revolution." Rachid Ghannouchi is the leader of the Ennahda party.
Throughout the many protests across the country, the police have fired tear gas at the demonstrators to disperse them. The use of tear gas was not absent from Belaid's funeral either; however, this time the police were not trying to get rid of Belaid's supporters.
The funeral was rather peaceful for a while, with little security intervention. Reports have indicated though, that while the mourners' procession approached the cemetery to lay Belaid's body to rest, that young men just outside the cemetery were attempting to steal mourner's phones cameras, and cars. When police tried to stop these individuals, the young men began throwing stones at the police and began to set the cars ablaze. As a result, the police were forced to use tear gas which ultimately found its way into the cemetery.
Reports out of CNN indicate that the tens of thousands of mourners last stop in its procession may not be the cemetery. Apparently, there may also be a plan to march to the Ministry of the Interior after the funeral. Police fired tear gas there just a day ago to get rid of protestors.
For further information, please see:
Alchourouk – Two Days MRA Assassination Belaid Preoccupation with Security Back: Congestion in the Street and Horror Among Citizens – 8 February 2013
Assabah – The Final Lesson – 8 February 2013
Guardian – Tunisia Turmoil: Chokri Belaid's Funeral and General Strike – Live Updates – 8 February 2013
BBC – Tunisia: Chokri Belaid Assassination Prompts Protests – 6 February 2013
Author:
Impunity Watch Archive