By Hojin Choi
Impunity Watch Reporter, Asia
BANGKOK, Thailand – Thailand's army chief, General Prayut Chan-Ocha, announced Thursday in a televised statement that the military will take control of the government. The coup includes a suspension of the constitution and imposition of a nationwide curfew. This is the 12th coup since 1932.
The coup was announced two days after martial law was imposed. As  negotiations between the military, political groups, and members of the election commission broke down, General Chan-Ocha announced "it is necessary for the Peace and Order Maintaining Command to take control of governing the country."
The military interference is the outcome of months of political chaos and violence. The dispute arose between the "Red Shirts," a pro-government group, and the anti-government opposition known as "Yellow Shirts." The Red Shirts have held ongoing demonstrations in support of former Prime Minister Thaksin and his political influence.  Thaksin was removed in a previous coup in 2006.  Thailand's most recent Prime Minister, Yingluck, Thaksin's sister, was removed on May 7 for alleged constitutional violations.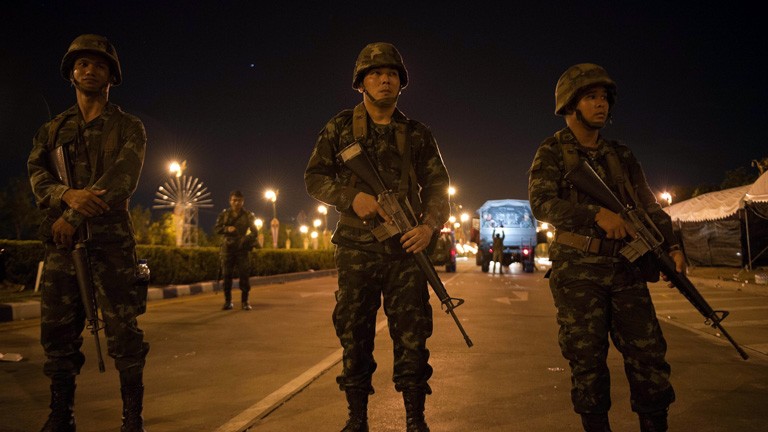 The military imposed the nationwide curfew between 10 p.m. and 5 a.m. and ordered schools to be closed between Friday and Sunday. All television broadcasting has been suspended, except for the signal of the military's television channel. The military also banned more than 150 political figures from leaving the country while summoning and detaining prominent politicians and their families, including Yingluck.  "Political gatherings" of more than five citizens have been prohibited, and protesters were ordered to return home immediately.
World leaders and organizations expressed concern about democracy, detentions, and the media shutdown of Thailand.
Navi Pillay, U.N. High Commissioner for Human Rights, said "I am very concerned by the restrictions on fundamental freedoms." He stressed prompt restoration of the rule of law in the country. Pillay particularly emphasized that freedom of expression and freedom of assembly were essential to the effective resolution of political differences and disputes. In addition, the military power to resolve the conflict should be temporary and limited.
Foreign Secretary of the U.K., William Hague, said he was "extremely concerned" by the coup. According to Hague, "the U.K. urges the restoration of a civilian government that has been democratically elected, serves the interests of its people and fulfills its human rights obligations.".
"There is no justification for this military coup," U.S. Secretary of State John Kerry announced. Kerry anticipated "negative implications" and impacts on the U.S. and Thai relationship, especially with the Thai military. He stated that the U.S. would review its "military and other assistance," including suspension of $10 million in aid to Thailand.
State Department spokeswoman Jen Psaki announced in USA Today that "U.S. law prohibits the government to assist countries where elected officials are deposed by the military."
For more information please see:
Aljazeera – Thailand under curfew after army takeover – 22 May 2014
CNN – Thai military tightens grip, bans more than 150 from leaving country – 23 May 2014
USA Today – Thai military declares coup, detains party leaders – 22 May 2014
BBC News – Thailand military seizes power in coup – 22 May 2014
The Washington Post – US, other nations express concerns over Thai coup – 23 May 2014
Author:
Impunity Watch Archive