By Samantha Netzband 
Impunity Watch, Africa Desk Reporter
BANJUL, The Gambia– Former President Yahya Jammeh of The Gambia has finally relinquished the office of the President after the threat of military intervention in the Gambia.  West African leaders urged former President Jammeh to transfer power to President Adama Barrow.  Jammeh ultimately heard their calls and fled the Gambia on Saturday, two days after his term as President had ended.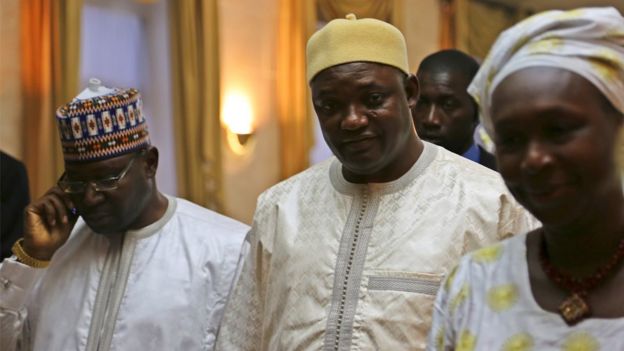 The Gambia's new president, Adama Barrow. (Photo Courtesy of BBC Africa)
President Barrow has been in Senegal where he awaited Jammeh's departure.  He was sworn into office in Senegal and will be returning to the Gambia any day now.  Security forces from other West African nations have entered the Gambia in order to ensure a peaceful transition.  President Barrow has promised to bring change to a country that has been ruled for 22 years by former President Jammeh.  Barrow hopes to create a Truth and Reconciliation Commission to bring to light some of the human rights abuses that Jammeh committed.  Many of these allegations stem from the 1994 Coup in which Jammeh seized power.
Former President Jammeh on the other hand managed to flee the country while also stealing from the Gambian people.  Jammeh was flown out of the Gambia on a jet reportedly with $11 million from the Gambia's treasury.  He also made away with three luxury car and has ten more waiting to be shipped to him.  While Morocco has offered Jammeh asylum he is currently staying in Guinea.  It is unclear what country Jammeh will make his final destination.  President Barrow has made himself clear that he does not want Jammeh in the country.  The former President's presence would be distracting and unhelpful to the new government.
For more information, please see: 
BBC Africa – The Gambia 'missing millions' after Jammeh flies into exile – 23 January 2017 
Latest News New Zealand – The Gambia Missing Millions After Jammeh Flies into Exile – 23 January 2017
Voice of America – Regional Security Forces Arrive in Gambian Capital Ahead of New President's Return – 22 January 2017
Washington Post – Gambia's Defeated Leader Finally Gave Up Power-and took Luxury Cars and took luxury cars and millions of dollars with him – 23 January 2017 
Author:
Samantha Netzband