By Karen Diep
Impunity Watch Reporter, Asia
PHNOM PENH, Cambodia– Time is of the essence in the Khmer Rouge trial.  According to experts, funding and health threaten the trial of Khmer Rouge's three surviving members for the deaths of approximately 2 million people.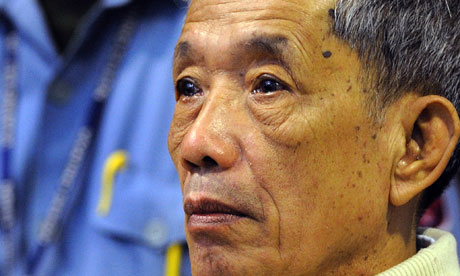 Nuon Chea, the chief advocate, Khieu Samphan, the head of state, and Ieng Sary, the foreign minister, face charges that include genocide, crimes against humanity, and war crimes.
The Khmer Rouge, a Communist movement, is responsible for the execution, torture, forced labor, and starvation of millions from 1975 to 1979.  Survivors have waited a very long time for the prosecution of those liable.
"The victims, especially myself, we suffer for too long," said Marie Chea, now 60 years old.  "I lost my family, my mom, my dad, my brothers and sisters.  I suffer, suffer, even when I am back home — I say home because I am in the United States more than 30 years."
In 2006, voluntary contributions from various nations paid for the existing tribunal.  However, since its creation, the tribunal has cost more than $160 million and this year faces a $22 million budget decrease.  Financial stress aside, the court faces other dilemmas.
Seven months have already passed in the first "mini-trial."  Since opening statements in late November, the court has only held trial hearings on 78 days.  On Thursday, it adjourned for about a month.  To date, the tribunal has only completed one case, the sentence of S-21's prison chief, Kaing Guek Eav, to life imprisonment.
In an effort to expedite the process, judges of a UN-supported court in Phnom Penh have divided the intricate case into smaller trials, thus leaving the most serious crimes for later proceedings.
In addition to funding troubles and slow pace, the ailing health of the Khmer Rouge's senior members and their ability to endure the entire trial is a grave concern.  Last month, the hearings were postponed for a week because 86 year old Ieng Sary was hospitalized for bronchitis.
"This is it, this is the trial. Nobody believes there's going to be a second phase," voiced Anne Heindel, a legal consultant to the Documentation Center of Cambodia.  Moreover, according to Jakarta Globe, Heindel fears of a "narrow judgment" that would veil "the story of what happened under the Khmer Rouge."
The first trial piece centers on the forced transfer of city inhabitants to rural work sites.  Shortly after the evacuation, the regime allegedly killed thousands of "enemies." The prosecution has twice requested that the judges include this crime among others in the first trial.
For many Cambodians, far worse crimes- mass purges, forced marriages, and torture – under the 1975-1979 regime may never be heard.  As Heindel stated, unaddressed crimes "would greatly diminish the legacy of this court."
For further information, please see:
Jakarta Globe- Fear Grow for Early End to Khmer Rouge Trial- 24 June 12
The Guardian-Kmer Rouge leaders go on trial in Cambodia– 26 June 12
The Huffington Post- Khmer Rouge Trial: Kaing Guek Eav, Chief Jailer, Gets Life In Prison– 12 Feb. 12
The New York Times-Survivors Seek Answers at Khmer Rouge Trial– 20 Nov. 12
Author:
Impunity Watch Archive