By Adom M. Cooper
Impunity Watch Reporter, Middle East
DAMASCUS, Syria–The volatile situation in Syria has shown absolutely no signs of cooling down, as at least 11 individuals have been killed when military forces backed by tanks stormed a small town of Kanaker near the capital of Damascus.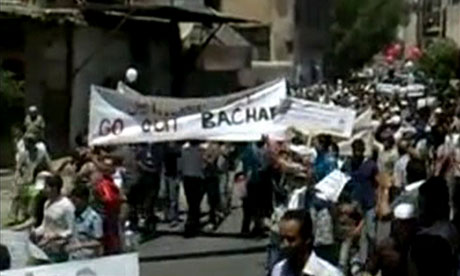 The Syrian Observatory, based in Britain, reported that four tanks and a bulldozer entered Kanaker on 27 July 2011, while 14 other tanks surrounded the town. The raid on the city took place after electricity and phones lines were cut off in the area. This activity is merely the latest swing in the crackdown on protests against President Bashar al-Assad. Residents threw stones and set fire to tires of vehicles in an attempt to stall the advance of troops.
Rami Adubl-Rahman, a correspondent for the Syrian Observatory, reported this recollection of the raid to CNN:
"At 3AM Wednesday, Syrian security forces and army soldiers stormed Kanaker amid heavy gunfire. Some residents threw rocks at the tanks and burned their tires as many chanted 'Allah is the Greatest' in the west part of the town where seven tanks took positions there."
Kanaker is located 30 kilometers (approximately 18.64 miles) southwest of Damascus.
The Syrian National Organization for Human Rights reported that military intelligence agents arrested some 300 individuals in Kanaker and took them away in 11 buses. Ammar Qurabi, a key opposition figure, leads this group.
The restriction on international journalists in Syria has made it increasingly difficult to verify the accuracy of reports given by the various human rights groups active in the country.
This recent crackdown appeared to come as a result of two organizations in France threatening to file legal complaints against President al-Assad and other members of the ruling Baath party. The two organizations, Sherpa and Transparency International France, said on 26 July 2011 that they wish the French government to make all of its findings public. They are primarily concerned with discovering if al-Assad and members of his party own any assets in France.
"The object is get an investigation open that would then identify assets that they may own in France either in their own name or through intermediaries and then to freeze them so they are not transferred to uncooperative jurisdictions."
According to various human rights groups, more than 1,600 civilians have lost their lives and some 20,000 others imprisoned by Syrian security forces in the countrywide crackdown on the protests since March.
But these numbers are not lowering the spirits of the activists and protesters in the least. Moaz Al Sibaai, the coordinator for the Syrian activists' network, reported to CNN that the opposition is always working to find ways to improve its work. He specifically highlighted improving communication with the media, developing secure telecommunications that cannot be hacked or tracked, and teaching how to lobby against the regime by documenting human rights violations.
"The harsher the regime is with its crackdown, the more creative we become in finding ways to cover the revolution."
For more information, please see:
Al-Jazeera-Syrian troops in 'deadly crackdown'-27 July 2011
BBC-Syrian forces kill eight in Kanaker raid: rights groups-27 July 2011
CNN-Activists: 8 slain in Syrian protest-27 July 2011
The Guardian-Syrian protesters 'forcibly disappeared' at rate of one every hour, say activists-28 July 2011
Author:
Impunity Watch Archive