By Kathryn Maureen Ryan
Impunity Watch, Middle East
DOHA, Qatar—Dozens of Nepalese migrant workers have died in Qatar in recent weeks, and thousands more are enduring horrendous labor abuses and poor labor condones. According to an investigation by the Guardian, thousands of Nepalese workers, the single largest group of laborers in Qatar, face labor exploitation and abuses that amount to modern-day slavery, as defined by the International Labor Organisation.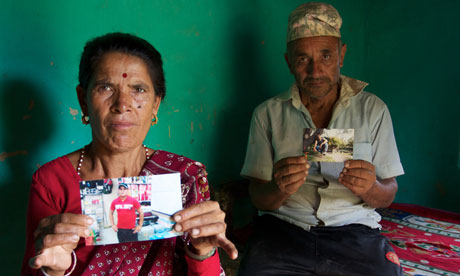 At the Nepalese embassy in Qatar, at least 44 Nepalese workers died between 4 June and 8 August 2013. More than half of these workers died of heart attacks or heart failure related to overwork or from workplace accidents. Approximately 30 Nepalese migrates sought refuge at their embassy in Doha Qatar in order to escape the brutality of their employers and the deplorable working.
The international Trade Union Confederation has claimed that construction in Qatar ahead of the 2022 FIFA World Cup could cost the lives of at least 4,000 migrant construction workers. The group has said that at least a half-million migrant workers are expected to flood into Qatar to complete construction on stadiums, hotels and new infrastructure for the World Cup. These workers are expected to come from several countries, including Nepal, India and Sri Lanka.
The annual death toll among migrant workers could be as high as 600 per year, unless the state government steps into to enact reforms the ITUC claims. The ITUC has based its estates on current mortality statistics for Nepalese and Indian migrant workers.  Without changes in labor conditions, more workers are expected to die.
A spokesman for the Qatar 2022 Supreme Committee said on Thursday that organizers of the 2022 World Cup were "appalled" by the Guardian's findings in their investigation saying, "There is no excuse for any worker in Qatar, or anywhere else, to be treated in this manner." He claimed, "The health, safety, well-being and dignity of every worker that contributes to staging the 2022 FIFA World Cup is of the utmost importance to our committee and we are committed to ensuring that the event serves as a catalyst toward creating sustainable improvements to the lives of all workers in Qatar."
Claims of worker abuse and the large scale loss of human life among migrant workers in Qatar has sparked international outrage, including from the soccer community. Qatar has been told it must respect the rights of workers building the 2022 World Cup stadiums by the world professional footballers' association, Fifpro.
Fifpro has called on Water to respect the rights of construction workers building the venues for the 2022 world cup. Brendan Schwab, Division Asia chairman for the organization said, "The 2022 FIFA World Cup was awarded to Qatar to promote football and, more importantly, football's universal values in the Middle East. This can only be achieved if Qatar respects the rights of the key people who will deliver that World Cup: the workers who build the World Cup stadia and the players who play in them."
For more information please see:
The Guardian – Qatar told to respect rights of workers building 2022 World Cup stadiums — 27 September 2013
NBC Sports – Qatar World Cup horror, as 4,000 migrants could be 'worked to death' – 27 September 2013
The Guardian – Qatar World Cup construction 'will leave 4,000 migrant workers dead' – 26 September 2013
The Guardian– Revealed: Qatar's World Cup 'slaves' – 25 September 2013
Author:
Kathryn Maureen Ryan