By Adom M. Cooper
Impunity Watch Reporter, Middle East
GAZA CITY, Gaza–Thousands of Palestinians in Gaza and the West Bank have rallied in support of Khader Adnan, who is in the midst of a 60-plus day hunger strike to protest against his detention by Israel. Adnan, 33, has been refusing to eat since 18 December 2011 following his arrest on 17 December 2011 in the occupied West Bank. He has been held under "administrative detention," which means that Israel can detain him indefinitely without trial or charge.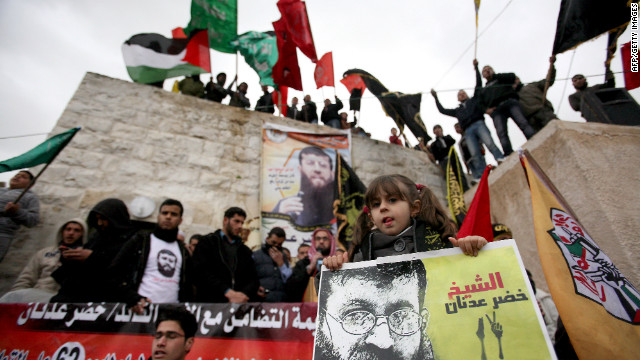 Adnan is accused of being the spokesman of the Palestinian militant group Islamic Jihad, a right group that advocates the destruction of the state of Israel. It has not been confirmed that he was involved at all in any attacks but his family stated that he remains a member. He owns a bakery and a fruit and vegetable shop in his West Bank village of Arabeh. Adnan is married with two children and his wife, Randa, is expecting a third child.
On Saturday 18 February 2012, Adnan's lawyers appealed to Israel's Supreme Court, demanding to be released. To support his case, Adnan is fighting the "administrative detention" policy. Adnan's doctors have warned him numerous times that the 33-year-old might die soon due to lack of nourishment. One of Adnan's lawyers, Mahmoud Hassan, shared these words with Ahram concerning the situation.
"We are hoping that the Supreme Court hears this case urgently. He could die before the court hear happens."
The court has not yet set a date for the hearing. Hassan has said that in previous cases, the high court at times reduced the sentence of administrative detainees on appeal, but rarely ordered the detainees freed outright. The hunger strike has turned Adnan into a Palestinian hero, while he is being kept held under guard in a northern Israeli hospital and Israeli officials are monitoring his condition. According to the Israeli branch of Physicians for Human Rights on Wednesday 15 February 2012, he is taking liquid fusions of salts, glucose, and minerals and a team of doctors is overseeing his medical care. Although his care is being carefully monitored, the Physicians for Human Rights believe that even ending the strike could be detrimental for Adnan's health.
"Mr. Khader Adnan is in immediate danger of death. There is a risk to his health even if he starts eating now because his system has got used to not having any food at all."
According to B'tselem, an Israeli human rights group, Israel had 307 Palestinians under administrative detention at the end of 2011. The group stated that this was a 40% increase in the number of detentions from 2010. According to The Physician for Human Rights, since the beginning of the hunger strike, Adnan has lost some 60 pounds, his hair has begun to fall out, and his muscles have atrophied.
Adnan is currently serving four months in administrative detention. Israeli military judges have the authority to imprison defendants for up to six months at a time, with the possibility of renewing the detention order repeatedly. Defendants and their lawyers are not shown the alleged evidence against them. An Israeli military judge rejected an earlier appeal by Adnan last week, stating that he reviewed the evidence and found the sentence to be fair.
While Adnan sits in detention, thousands gathered in the Gaza Strip to support him. Activists from main political factions joined forces in a rare display of Palestinian unity.
"We are all Khader Adnan," the crowds chanted to let their fellow Palestinian know that he is not alone. According to the Palestinian Authority, at least 5,000 people took to the streets of Gaza, waving a mix of black Jihad flags, green flags to support Hamas, and yellow flags to support the Fatah movement of Mahmoud Abbas. Witnesses have stated that hundreds also gathered in the northern West Bank city of Jenin.
Palestinian officials stated that many other prisoners in Israeli jails had begun hunger strikes to support Adnan. Hassan Salama was among those participating, a senior armed commander of Hamas who is serving life terms for organizing and implementing suicide bombings against Israelis. Hunger strikes is nothing new for Palestinians, who have been using them before to try and fester attention of the treatment in the region and to denounce the Israeli occupation of Palestinian territories.
But the protests and group hunger strikes have never lasted this long as they have for Adnan. The amount of attention from Adnan's hunger strike has already become a rallying cry for Palestinians, as protesters have also launched a social media campaign to shed light on Israel's administrative detentions. According to CNN, Palestinian legislator and human rights activist Mustafa Barghouti shared these words in a recent West Bank rally.
"This is a violation of every aspect of human rights. What Khader Adnan is doing today is to show the will of freedom even if it means the loss of life."
For more information, please see: 
Ahram – Lawyer of Palestinian Hunger Strike Files Appeal – 18 February 2012
Al-Jazeera – Thousands Rally For West Bank Hunger Striker – 18 February 2012
CNN – Palestinian's Hunger Strike Puts Spotlight on Israeli Detentions – 18 February 2012
NYT – Palestinian's Trial Shines Light on Military Justice – 18 February 2012
BBC – Palestinians Rally in Support of Hunger Strike Prisoner – 17 February 2012
The Guardian – Palestinian Hunger Striker Khader Adnan 'Near Death' In Israel – 16 February 2012
Author:
Impunity Watch Archive