By Christine Khamis
Impunity Watch Reporter, Asia
MANILA, Philippines –
Two Chinese diplomats were shot to death in a restaurant in Cebu, a central city in the Philippines, on Wednesday. Another Chinese diplomat was wounded after he was shot in the neck by the same shooter. Two of their colleagues are suspects in the shootings.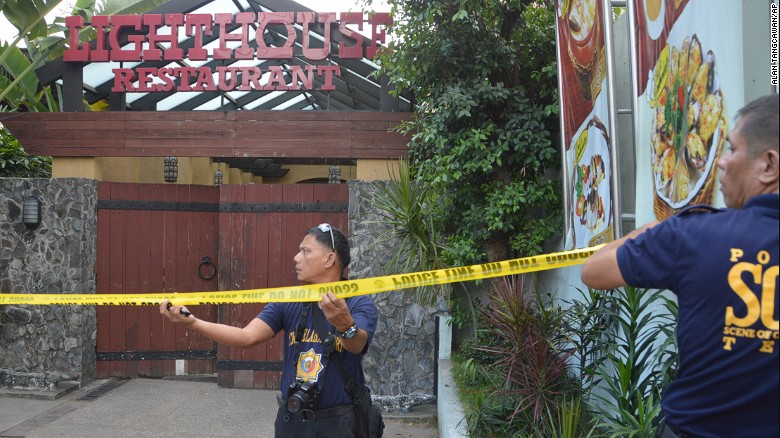 Li Qingliang and his wife, Guo Jing, both employees at Cebu's Chinese Consulate, have been identified as the suspects in the shooting. Police found a .45-caliber pistol left behind by the suspects at the restaurant. Police have not yet determined Mr. Li and Ms. Guo's motive for the shootings. Mr. Li and Ms. Guo fled from the restaurant but were later arrested at Cebu's consular office.
According to Colonel Romeo Santander, Superintendent of Cebu Police City Intelligence Branch, Li Hui and Sun Shen, employees of the Chinese Consulate, were shot while dining with their colleagues.
Ms. Li was a finance officer for the Chinese Consulate and Mr. Sun was the Consul General's deputy. The Consul General, Song Ronghua, was also shot and wounded. He is currently in stable condition.
Colonel Santander said that video footage of the shootings shows an argument breaking out among the people seated at the table. Mr. Li then shot Ms. Li, Mr. Sun, and Consul General Song.
The Philippine Foreign Ministry has stated that both Mr. Li and Ms. Guo have diplomatic immunity pursuant to the Vienna Convention, as they are accredited Chinese diplomats. The Ministry's spokesman, Charles Jose, says that both will handed over to China and will be subject to China's legal process. China's ministry of Foreign Affairs stated that the case will be handled according to applicable international treaties and bilateral consular agreements.
China and the Philippines have disputed over territorial claims in the South China Sea. Consul General Song recently took office and has been working to help China improve ties with the Philippines. Local reports say that Consul General Song stated that the two countries had "no excuses to quarrel" at a conference that took place last month.
For more information, please see:
CNN – Two Chinese Diplomats Accused of Killing Colleagues in the Philippines – 22 October 2015
BBC – Chinese Diplomats Shot Dead in Philippines Restaurant Attack – 21 October 2015
The New York Times – 2 Chinese Diplomats Shot to Death in Philippines – 21 October 2015
Voice of America – 2 Chinese Diplomats Killed in Philippines Shooting – 21 October 2015
The Wall Street Journal – Two Chinese Diplomats Killed by Gunman in Philippines – 21 October 2015