by Hibberd Kline
Impunity Watch Reporter, Asia
BEIJING, China – A 32 year old mother, an 18 year old boy and a middle school student each died after setting themselves on fire in protest of Chinese rule in Tibet over the past three days.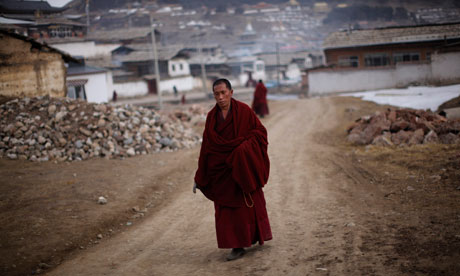 The three protesters lit themselves on fire in separate incidents in two different provinces in China's restive Northwestern region.
The first of the weekend's immolations took place on Saturday, when a student set herself on fire at a vegetable market in Gansu province's Maqu county. The girl died at the scene.
Radio Free Asia reported the girl to be "in middle school." London-based group, Free Tibet, later identified her as 20 year old Tsering Kyi.
Free Tibet quoted the student as saying before she died that Tibetans were burning themselves in Aba, a town in Sichuan province as well as in other areas under a widespread security clampdown by the Chinese authorities.
According to Tibetan exiles, unidentified market-goers threw stones at the girl's burning body.
On Sunday, in an apparently uncoordinated second incident a 32 year old woman by the name of Rinchen lit herself on fire in front of a police station in Aba prefecture in Sichuan province. The act was especially symbolic to Tibetans because, like many police stations in heavily Tibetan populated areas in China, the station was by the main gate to a Buddhist monastery.  China is rapidly expanding its security presence in Tibet and neighboring Xinjiang  and it has become a common practice for the government to build police stations inside or next to Buddhist monasteries in order to maintain closer control over Tibetan religious leaders.
The particular monastery that Rinchen chose is known as the Kirti Monastery and is significant because it has been central to a recent string of protests and more than twenty self-immolations undertaken by Tibetans in protest of Chinese rule. Rinchen reportedly quoted a Tibetan monk, who is currently exiled in India, calling for the return of the Dali Lama and freedom for Tibet.
According to Free Tibet, Rinchen was the mother of four children.
The third self-immolation was carried out by an 18 year old boy identified by Free Tibet as Dorjee, who set fire to himself in the town of Chara in Sichuan province on Monday.
According to a Tibetan in exile in India, Dorjee set himself on fire and then marched from a nearby bridge to a government building, where he collapsed and died.
Local authorities refused to comment on any of the three incidents.
Tibet has been ruled by China since 1950, when Chinese troops occupied the region. The Chinese Government claims that the self-immolations have been carried out by "terrorists."
The back-to-back immolations took place on the eve of the annual opening of the Chinese Parliament. This year's parliamentary session is expected to effect the transfer of power to a younger generation of leaders within the Chinese communist party. The planned transfer has put much of the government in a heightened state of alert and has led to a sizable increase in China's security presence in its restive northwestern region.
In addition to the enhanced security ahead of this year's Parliamentary session, security is traditionally bolstered in Tibetan-populated areas in March, which marks the anniversaries of the 1959 uprising, which sparked the flight of the Dali Lama, and the anti-government protests that took place in the regional capital of Lhasa in 2008.
Human rights activists claim that China's attempts to tighten its grip on the region merely exacerbates the problem by alienating the indigenous Tibetan populous.
Last Thursday, the regional government ordered authorities inside Tibet to increase control over mobile phones and the internet, both of which are already monitored in the region and have reportedly even been blocked completely in some areas.
Foreign journalists are largely banned from entering the region. Therefore the recent increase in censorship makes events in the region even more difficult to independently confirm.
Human rights activists and Tibetan exiles claim that the Chinese Government oppresses Tibetans and that it is deliberately undermining Tibetan religion and culture. The Chinese Government rejects this, claiming that China has improved the Tibetan economy and improved the lives of people in a "backward" region.
For more information, please see:
BBC News —  Tibetan Women 'Die after Self-Immolation' — 05 March 2012
The Guardian — Tibetan Women Set Themselves on Fire, Say Reports — 05 March 2012
The New York Times — Three Tibetans Die after Self-Immolations — 05 March 2012
Radio Free Asia — Third Self-Immolation in Three Days —  05 March 2o12
Voice of America — Reports: Tibetan Teenager Sets Himself on Fire — 05 March 2012
The Washington Post — Reports Say Teenage Tibetan in Sichuan Sets Self on Fire and Dies; Third Immolation in Three Days — 05 March 2012
AP News — Tibetan Woman, Student Set Selves on Fire — 04 March 2012
The Guardian — Tibetan Woman Dies after Setting Herself on Fire in Protest at Chinese Rule — 04 March 2o12
Author:
Impunity Watch Archive