By: Brian Kim
Impunity Watch Reporter, Asia 
HANOI, Vietnam – Nguyen Ngoc Nhu Quynh, one of Vietnam's top bloggers, was sentenced to 10 years in prison on charges of distributing propaganda against the government. Otherwise known as "Mother Mushroom," Ms. Quynh is an activist raising awareness of social injustice and environmental issues in Vietnam. She first started the blog in 2006 and is known for her famous tagline, "Who will speak if you don't?"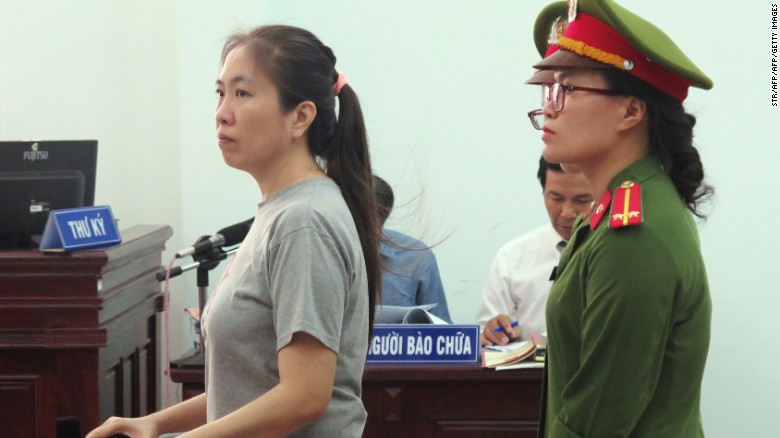 Ms. Quynh was arrest in October when she visited a fellow activist in prison. Since her arrest, Ms. Quynh has not been allowed to meet any visitors. Her attorney, who she was only allowed to meet nine days before the trial, stated that the sentence was "too heavy and unfair for the accused."
In 2009, she was arrested for 10 days for "abuse of democracy and infringing on the national benefit." The Vietnamese government ordered Ms. Quynh to give up blogging and post a letter on the site explaining her love for the country. Upon her release, she blogged again two months later.
The United States government recently called on Vietnam to release Ms. Quynh. Furthermore, Human Rights Watch asked Vietnam to drop all charges against her.
Ms. Quynh has received numerous awards, including the Sweden-based Civil Rights Defenders award. Moreover, the U.S. State Department has also awarded the International Women of Courage Award early this year.
Since her arrest, around 1,000 activist, bloggers, and lawyers signed a petition demanding her release.
It is reported that the arrest of activists in Vietnam is not unusual. In fact, Phil Robertson, deputy Asia director at Human Rights Watch stated that the "Vietnamese government uses vague national security laws to silence activists and throttle free speech."
In Vietnam, the internet has been the main forum for the country's growing number of dissenting voices. Due to this reason, the Vietnamese government has asked social media sites, such as Facebook and YouTube to censor the content.
For more information, please see: 
NYT – With Social Media, Vietnam's Dissidents Grow Bolder Despite Crackdown – 2 July, 2017
CNN – Vietnamese blogger Mother Mushroom jailed for 10 years – 29 June, 2017
BBC – 'Mother Mushroom': Top Vietnamese blogger jailed for 10 years – 29 June, 2017