By Kathryn Maureen Ryan
Impunity Watch, Managing Editor
TUNIS, Tunisia – On December 17, 2010 Mohammed Bouazizi, a disenchanted fruit seller, committed an act of self-immolation in protest of the Tunisian state. Bouazizi's actions would set in motion a chain of events that would forever change Tunisia, a historical authoritarian state, and spread across the Arab World. After his protests thousands of Tunisians took to the streets demanding an end to authoritarian rule in their country. Today the country that ignited the Arab Spring is on the verge of becoming a full democracy, holding critical elections over the weekend. Election observers said the elections demonstrated Tunisia's support for democratization.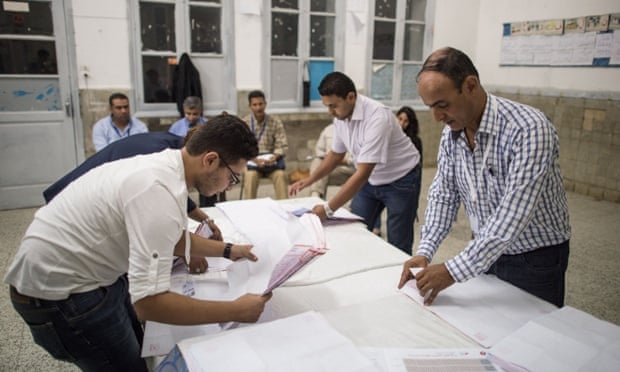 Tunisia's elections were closely watched around the world. The country is poised to become the first Arab Spring state to make a full transition to democracy. Unlike Syria, Egypt and Libya, which have been embroiled in conflict of varying degrees from Syria's horrific Civil War to Egypt's brutal crackdown on Islamist groups, Tunisians have addressed deep political divisions and prevented a full out unraveling of their country.
Tunisians filled polling stations on Sunday to cast a vote for the country's new parliament, a 217 seat body that will serve for a five year term. Officials estimated that the voter turnout was close to 60% based on partial figures. The elections are the second in Tunisia since the popular uprising that sparked the Arab Spring forced former President Zine-el-Abidine Ben Ali out of power in 20011.
"We had some fears about the turnout," said Juini Nooredine, a polling station operator in downtown Tunis. "But what happened was the opposite. Tunisians gave themselves a challenge and showed they want democracy and elections." He paused, then added, "So the revolution succeeded."
Two major political powers were jockeying for control of the government: the Islamist party Ennahda, which led a coalition government for two years from 2011 during the country's transitional period, and Nidaa Tounes, a party led by Beji Caid Essebsi, an 87-year-old former prime-minister which has positioned itself as a secular, modern alternative to the Islamist parties. Mr. Essebsi hinted soon after polls closed on Sunday that his party would emerge victorious. "We have positive indicators that Nidaa Tounes is in the lead," he told the press and supporters.
Preliminary results showed Tunisia's secular Nidaa Tounes party is emerging as victor with the majority of the seats won. Nidaa Tunis has won 83 seats or 38% of the seats in parliament according to official provisional results released on Monday. The country's leading Islamist party, Ennahda, conceded defeat on Monday after coming in second place with 68 seats or 31% percent of the seats in parliament. The Ennahda party was the first Islamist movement to secure power after the 2011 Arab spring revolts began. "We have accepted this result and congratulate the winner," Lotfi Zitoun, an Ennahda party official, told the press.
While the Ennahda party enjoyed widespread support form he poor the party, which is accused of mismanaging the economy and for inexperience when it led Tunisia during the transitional period, fared far worse than it expected during Sunday's elections. Ahmed Gaaloul, a member of Ennahda's shura (consultative) council, argued that history has demonstrated that the first governments to lead countries after revolutions often had a difficult time. "Most of the post-revolution governments faced difficulties, simply because people's expectations are higher after revolution," he said. "Governing is not an easy task in those conditions because you don't want to prove powerful when people revolted against that."
International observers said Sunday's election were a good sign for democratization in Tunisia saying the vote was orderly, despite some reports of isolated irregularities.
For more information please see:
Al Jazeera – Tunisia's Ennahda 'Faces Defeat' In Elections – 28 October 2014
The Guardian – Tunisia's Islamist Party Ennahda Accepts Defeat in Elections – 27 October 2014
Bloomberg – Tunisians Vote for First Permanent Assembly since Revolt – 26 October 2014
The New York Times – Voter Turnout Bolsters Tunisian Hopes for Post-Revolution Stability – 26 October 2014
Author:
Kathryn Maureen Ryan