By Tara Pistorese
Impunity Watch Reporter, Africa
KAMPALA, Uganda—The United Nations (UN) and the U.S. Foreign Affairs Committee have endorsed plans to propel the hunt for Joseph Kony and neutralize the Ugandan rebel group, the Lord's Resistance Army (LRA).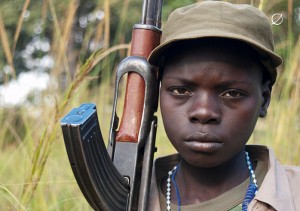 For twenty-six years, northern Uganda was victimized by atrocities at the hand of Kony and his army. After years of massacres, mutilations, and child abductions, resulting in female children becoming sex slaves and males becoming child soldiers, the United States designated the LRA a terrorist organization in 2001. Kony is currently wanted by the International Criminal Court for these human rights violations.
After 2004, most of the LRA combatants were driven out of Uganda; however, remnants of the guerilla group continued to attack Ugandan citizens and neighboring countries, including the Central African Republic and the Democratic Republic of Congo.
In March, Invisible Children, a human rights group based in San Diego, California, released "Kony 2012," an Internet video bringing Kony and the LRA brutalities into the public eye. The organization received credit from diplomats and activists, such as Human Rights Watch, for keeping pressure on the initiative to find and prosecute Kony.
Francisco Madeira, a representative of the African Union (AU), praised Invisible Children, saying the organization "has been able to make the world know there is a tyrant in Africa who is maiming, raping, and destroying the lives of young, young Africans."
Although one senior LRA commander was recently captured, Kony's forces remain extremely dangerous and capable of inflicting considerable damage and suffering on the civil population, according to Abou Moussa, the Secretary-General's Special Representative and head of United Nations Regional Office for Central America (UNOCA).
The recently approved UN Security Council plan focuses on five key strategic objectives, including, but not limited to: promoting further protection of civilians; expanding current disarmament, demobilization, expatriation, resettlement, and reintegration activities; and, coordinating a humanitarian and child protection response in the affected areas. The UN plan also aims to implement 5,000 AU soldiers in the impacted areas by next year.
Similarly, the United States House Panel approved legislation last week expanding State Department awards for the justice program, which targets the world's most serious human rights abusers.
Currently, locating Kony, one of the program's highest priority targets, warrants a reward of anywhere between $1-25 million. The newly approved program and legislation received bipartisan support.
But some question the delayed international response. "On the one side, we are so grateful there is this new regional program," said Jan Egeland, deputy executive director of Human Rights Watch. "On the other side, we are now in the 26th year of the problem."
For further information, please see:
Boston Herald—Staying Focused on the Hunt for Kony—1 July 2012
All Africa—Central Africa: Security Council Endorses UN Regional Strategy to Combat LRA Threat—29 June 2012
The Sacramento Bee—U.N. Endorses AU Force to Hunt Kony—29 June 2012
The Philadelphia Inquirer—Lawmakers Back Funding of Human-Rights Rewards—28 June 2012
Author:
Impunity Watch Archive