By: Brianna Ferrante
Impunity Watch Reporter, North American Desk
The State department has ceased communications on all new and outstanding inquiries from special rapporteurs at the United Nations' Human Rights Council.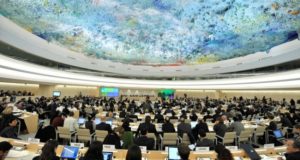 Special rapporteurs are a network of independent experts appointed by the Human Rights Council of the United Nations. The specialized division is tasked with acting as global monitors of human rights and war crimes around the world.
The most pertinent challenge facing the group is non-compliance with its investigatory processes by governments.  In addition,  persistent lack of resources coupled with weak measures that have little to no viable implementation methods further frustrate the the group's objective. With a multitude of variables beyond its control, the special rapporteurs operation in this capacity is highly dependent on the influence of nations that demonstrate cooperation.
The United States has not responded to any UN requests for compliance on
investigations
into potential human rights abuses since May 7, 2018. There are currently 13 outstanding, unanswered investigation requests. The majority of these investigations are in relation to migrants at southern border.
The final May 7th correspondence occurred about a month and a half before Trump Administration formally announced it had withdrew from the United Nations Human Rights Council.
A January 14th
report
from the Human Rights Watch as part of its annual review contained its most recent "List of Issues" regarding the United States. The report was primarily focused on the country's mass incarceration and disproportionate sentencing, along with proposed recommendations and additional past recommendations that had been on the same issue.
The continual denial of cooperation places the US among the likes of nations such as North Korea, who has traditionally denied any cooperation with UN investigations into its conduct.
According to a 2010
study
by the Brookings Institute, America's place in the global system yields immense influence over other nations, which makes its public non-compliance with the UN's human rights efforts particularly problematic. While the nation serves as a catalyst for advancing human rights when its administration is readily and willing to comply with the council's inquiries, continual refusal to do say establishes a precedent that could result in other nation's following suit.
For more information, please visit:
Author:
Brianna Ferrante
Brianna Ferrante is a first-year law student at Syracuse University College of Law and news writer for Impunity Watch. She holds a bachelor's degree in Political Science & International Relations from Monmouth University and has been published in The Outlook for her coverage of both international business and domestic politics.