By Tamara Alfred
Impunity Watch Reporter, Africa
The United States announced Tuesday that it is withholding some of its assistance to Malawi after claims that the government used force against protesters during demonstrations last week.
After months of growing economic struggles, Malawi erupted into protests last week.  Rioters took to the streets nationwide July 20 to protest the perceived mismanagement of the national economy and an impending fuel shortage.  The protesters also stormed the offices of the ruling Democratic Progressive Party in Mzuzu and demanded that the president step down.  Various sources report that between 12 and 19 people were killed and dozens injured.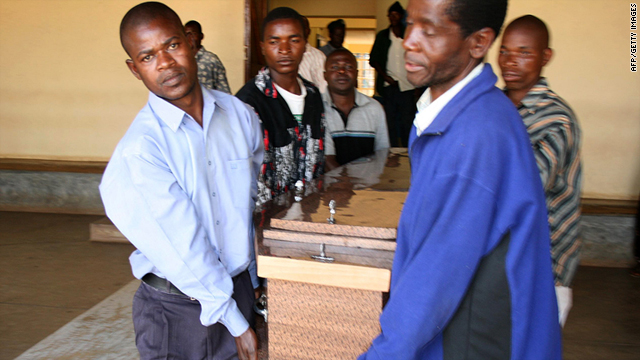 The U.S. government agency providing development aid to countries, including Malawi, that show a commitment to good governance, the Millennium Challenge Corporation (MCC), announced it was halting $350 million in operations going to Malawi.  The announcement follows the State Department's statement condemning the Malawi government's use of force against demonstrators and urging restraint by both sides.  MCC's move also echoes the United Kingdom's suspension of aid to the country as of July 14 on the grounds that the government had suppressed demonstrations and intimidated civic groups.
Malawi is one of the poorest countries in the world and its president, Bingu wa Mutharika, 77, a former World Bank economist, had been widely credited with successful efforts to reduce hunger.  However, human rights activists have begun to criticize his increasingly authoritarian tendencies, reminiscent of Hastings Kamuzu Banda, the dictator who ruled the country for 40 years until 1994.
Sheila Herrling, a senior U.S. official, said Tuesday that the MCC was "deeply disturbed" by accusations that the police had fired live rounds on unarmed people and by claims that press coverage of the two-day demonstrations had been suppressed.
President Mutharika has rejected accusations that the police force under his command used excessive force against demonstrators and blamed the violence on his political opponents and the civic leaders who organized the protests.  His spokesman, Hetherwick Ntaba, said the police had to deal with looters, vandals and rioters.  Peaceful demonstrators were protected, not harmed, he said.
The government's critics, however, say they are afraid.  Undule Mwakasungula, who organized the protests, said he had gone into hiding since the president named him as one to blame.
"We are being hunted so we can't expose ourselves," he told The New York Times.  "We're a target of ruling party agents."
The president has sworn in official statements to "smoke out" anyone who opposes him.  In a recent public statement to the Associated Press, Mutharika said that the protest leaders are "thugs and sons of Satan."
The decision by both the U.S. and the United Kingdom will seriously injure the Malawi government's budget, as almost of half of the annual budget of $2 billion comes from international donors.
For more information, please see:
CNN – U.S. suspends some aid to Malawi over violence – 27 July 2011
The New York Times – U.S. Freezes Grant to Malawi Over Handling of Protests – 26 July 2011
Time – From Malawi to Senegal, Signs of a Sub-Saharan 'Arab Spring' – 26 July 2011
Author:
Impunity Watch Archive