By Hannah Stewart
Impunity Watch Reporter, Africa
NIAMEY, Niger — The United States signed an agreement with the central Africa nation of Niger that will allow for the deployment of surveillance drones to monitor Islamic militants in the region.  Currently, reports state that United States seeks only to deploy surveillance drones to Niger; however, the agreement could lay the legal groundwork for armed drones in the future.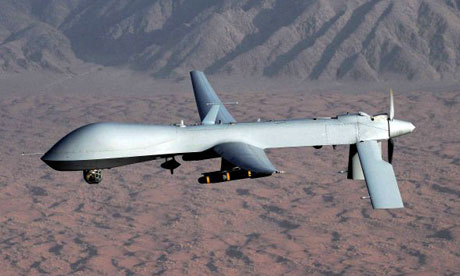 The use of drones, even if solely for surveillance purposes, remains controversial given the deadly drone strikes in countries such as Pakistan, Yemen, Afghanistan and Somalia.  The use of drones by the United States has caused outrage among civil liberties groups over the secrecy that surrounds their operation and the high incidence of civilian casualties.
The drones could be stationed in Niger's northern desert region of Agadez, which borders Mali, Algeria and Libya.  The goal is to improve intelligence on al Qaeda-linked Islamist fighters in northern Mali and the wider Sahara.  The United States has drones and surveillance aircraft stationed at several points around Africa.
Niger government sources reported that U.S. Ambassador Bisa Williams asked Niger's president, Mahamadou Issoufou, for permission to use surveillance drones and had been granted it.  The United States has reportedly been negotiating with Niger for some time, but France's intervention in Mali increased the urgency of the deal.
Earlier this month French forces intervened to stop Al-Qaida in the Islamic Maghreb (AQIM) move toward Mali's capital.  AQIM originated in Algeria and remains active in northern Mali.  AQIM has been connected to the recent assault on the natural gas facility in Algiers.  Moreover, the group has been linked to the attack on the U.S. diplomatic mission in Benghazi, Libya, that killed U.S. Ambassador Chris Stevens and three other Americans.
On Monday, French and Malian troops retook control of the ancient trading town of Timbuktu, as they pushed deeper the desert region seized by Islamist fighters last year. Currently, the U.S. is aiding France by sharing intelligence, flying French troops to neighboring countries, and refueling French jets.
Proponents of the agreement argue that in the short run, a drone base in Niger would allow the U.S. to aid France by supplying intelligence on the militant troops in Mali.  In the long run, the drone base would bolster American intelligence gathering and help strengthen Niger's own security forces.
For more information please see:
CNN – U.S. to Base Surveillance Drones in Niger, Ambassador Says – 29 January 2013
Fox News – US Planning to Establish a Drone Base in Africa for Better Surveillance of Region's Militants – 29 January 2013
The Guardian – US Signs Deal with Niger to Operate Military Drones in West African State – January 29 2013
Huffington Post – U.S. Drone Base in Africa Approved by Niger – 29 January 2013
Author:
Impunity Watch Archive