By: Danielle L. Gwozdz
Impunity Watch News Reporter
KAMPALA, Uganda – A British man who was facing charges in Uganda of possessing a gay sex video is to be deported, a court has ruled.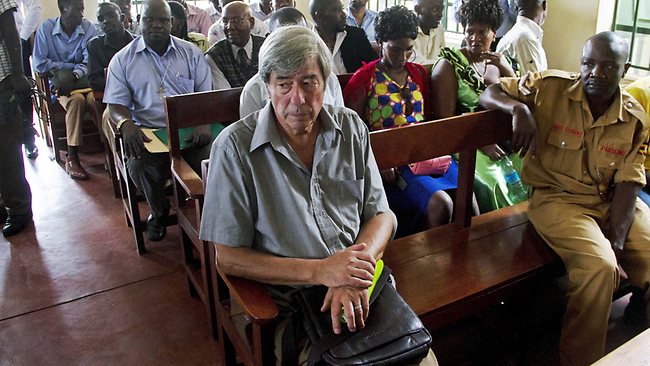 Bernard Randall, a 65-year-old retired man from Kent, denied a charge of trafficking obscene publications.
Uganda's government passed the anti-gay legislation in December, punishing homosexuality with life in prison. The President blocked the bill, saying not enough members of parliament were present to ensure a fair vote.
The President can refuse a bill before parliament can force it into law without his consent.
Judge Hellen Ajio has ordered Randall deported within the next 12 hours.
An official from the prosecutor's office said Randall was being deported because he had "kept on corrupting Uganda's youth" and had not renewed his visa at this time.
"Lies!" reported Randall, although his lawyer said the ruling would not be appealed.
Randall's lawyer asked for Randall to have at least five days before leaving the country.
Randall first appeared in court in Uganda in November, would have faced a possible two-year prison sentence if found guilty.
He was charged alongside his friend Albert Cheptoyek, 30, a Ugandan national with whom Randall shares a home with.
Cheptoyek denied the more serious accusation of "acts of gross indecency."
If Cheptoyek is found guilty, he could serve a possible seven year sentence in prison.
Officials at the court said police would accompany Randall to his home and allow him to collect his personal belongings before escorting him to the airport.
The trial took place in Entebbe, just outside the capital, Kampala.
Cheptoyek told BBC that Randall was being held in the court's cells awaiting his deportation.
BBC's Catherine Byaruhanga said Cheptoyek still stood as the trial against both men had not officially started.
Randall was put on trial after thieves stole a laptop from his home.
On the computer was stills of Randall with another man, which were then published in the notorious homophobic tabloid newspaper Red Pepper.
Randall has come out as homosexual after the recent death of his wife of 40 years.
For more information, please visit:
BBC News – Uganda gay sex case Briton Bernard Randall to be deported – 22 January 2014
Gay Star News – Uganda to deport British man on trial for gay sex video – 22 January 2014
The Sun Daily – Uganda court orders deportation of Briton in gay sex case – 22 January 2014
Herald Sun News – Gay Briton Bernard Randall to be deported from Uganda after private pictures stolen – 22 January 2014
Google – Uganda court orders deportation of Briton in gay sex case – 22 January 2014
Author:
Impunity Watch Archive