By: Danielle L. Gwozdz
Impunity Watch News Reporter, Africa
KAMPALA, Uganda – Police in Uganda have prevented women from marching through the streets in the capital of Kampala, in protest of new laws banning women from wearing miniskirts.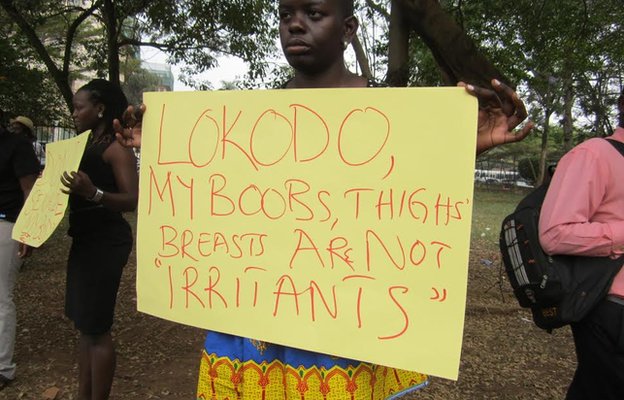 Two hundred women, upset with the ban, dressed in short skirts and gathered outside the national theatre to voice their anger.
There have been several harassments and assaults on women in the past week who were wearing short skirts.
This ban follows the signing of an anti-pornography bill, which bans "indecent" dressing.
Further, this week the President Yoweri Museveni signed a bill toughening penalties for gay people in the country.
This ban on miniskirts is known as "the miniskirt law," which was raised with the anti-pornography legislation and after some women have been publicly undressed for wearing miniskirts.
The police have spoken out and condemned those who engage in this so-called "mob undressing."
The women who stood outside the theatre in Kampala held up signs. One sign read: "my body my business," and another read: "thou shalt not touch my miniskirt."
BBC's Patience Akumu told BBC that "I was wearing a dress I considered official. Policeman after policeman – low-ranking, high-ranking – the each told me, 'You cannot enter this place in that miniskirt.'"
Then, Akumu stated, some officers manhandled her and confiscated her phone when she took pictures of them.
The Executive Director of the Uganda Women's Network, Rita Achiro, said her organization may take legal action as the constitution guarantees equal rights for both sexes. Further, the organization would continue to urge politicians to review the law.
The anti-pornography act, or "the miniskirt law," does not specifically ban miniskirts; however, it does ban women from exposing their thighs, breasts, and buttocks and from dressing indecently in a manner to "sexually excite."
Achiro states that this law has emboldened men to abuse women.
"Now people are more free to do it openly. They are going to judge women according to what they see as indecent because there are no parameters defined by law," Achiro said.
This has put women in risk in this country.
For more information, please visit:
BBC News – Uganda miniskirt ban: Police stop protest march – 26 February 2014
Local UK News – Uganda police stop miniskirt march – 26 February 2014
allvoices – Uganda police stop miniskirt march – 26 February 2014
Kenya Gounna – Uganda police stop miniskirt march – 26 February 2014