By Sarah Lafen
Impunity Watch Desk Reporter, Europe
KIEV, Ukraine — Nadia Savchenko, former military aviator and current Ukrainian lawmaker, has launched a new opposition movement following a split with her former political party.  The new movement is called RUNA, which is an acronym for Ukrainian People's Revolution.   Savchenko claims that RUNA will be a "mechanism" she describes as a "naturalist association of people" who stray from "populist slogans."  She does not consider the new platform to be a "political project" just yet, however expects it to be formed into such when the time is right.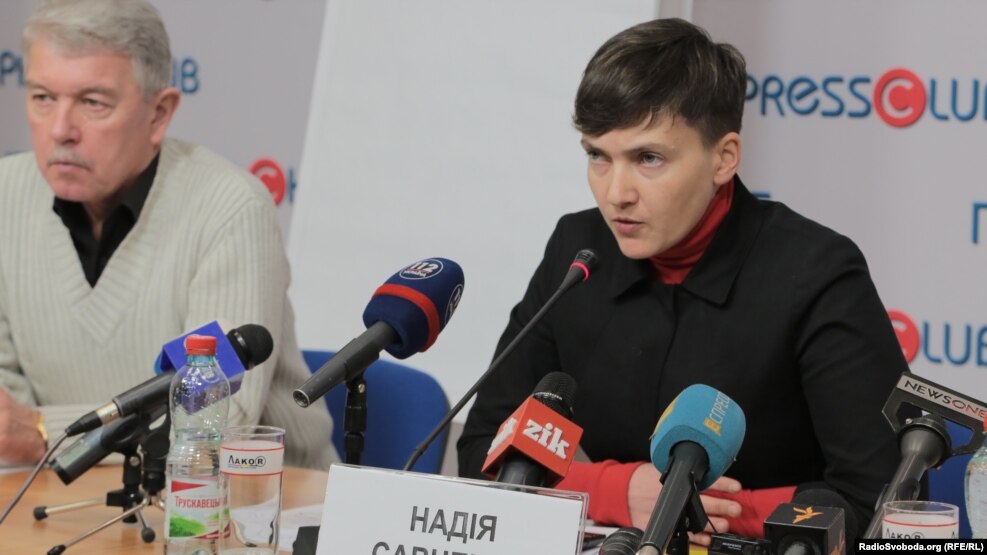 RUNA's Facebook page display's the movement's logo, which is four red and black leaves.  It also sets forth the movement's goals of active thinking and the revolution of Ukrainians to fulfill the aims of the EuroMaidan Revolution.  The announcement of the press conference officially launching RUNA was made online, and was entitled "Conception of systemic change in Ukraine as a unitary and decentralized republic."
After being sentenced to 22 years in prison on charges of alleged complicity in the murder of two Russian journalists, Savchenko was pardoned by Vladimir Putin in May and was released in a swap for two Russians held in Kiev.  The release of the prisoners came after Savchenko had a private meeting with the heads of separatist regions in Ukraine.
Savchenko denied the charges against her, and took part in two hunger strikes as a result.  Upon her release from prison, Savchenko was hailed as a hero upon her return to Ukraine, however has since faced criticism from nationalists.
In October, Savchenko quit the Batkivschyna political party headed by former Prime Minister Yulia Tymoshenko, and was formally expelled from it earlier this month.  Batkivschyna was critical of Savchenko's meeting with Russian-backed separatist leaders from eastern Ukraine to discuss a prisoner swap.  This month she was also formally expelled from Ukraine's delegation to the Parliamentary Assembly of the Council of Europe (PACE) as well as the Parliamentary Committee for National Defense and Security.
Mikheil Saakashvili, former president of ex-Soviet Georgia, has also recently created an opposition movement with intentions of overturning Poroshenko.
For more information, please see:
The Daily Star — Hero Pilot Savchenko Launches Ukraine Opposition Movement — 28 December 2016
The Guardian — Ukraine Insurgents Release Two Women Thanks to Savchenko — 27 December 2016
Kyiv Post — Savchenko to Launch New Political Project in Lviv — 27 December 2016
RadioFreeEurope RadioLiberty — Ukraine's Savchenko Unveils New Public Movement — 27 December 2016