By Mark O'Brien
Impunity Watch Reporter, Oceania
PORT MORESBY, Papua New Guinea — The United Nations called on leaders in Papua New Guinea to end the practice of killing people accused of witchcraft, after a young woman was accused of sorcery and publicly killed earlier this week.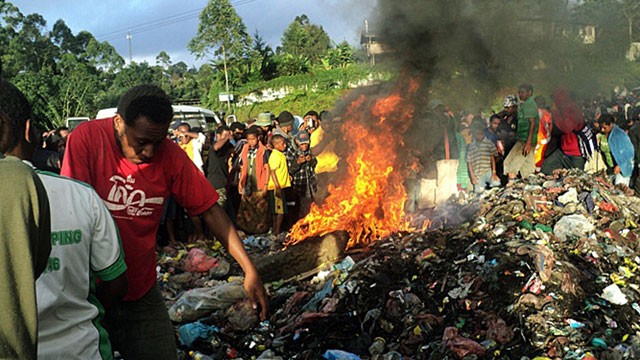 On Wednesday, Kepari Leniata was stripped, tortured, doused in gasoline, and set afire in front of hundreds of spectators.  Leniata, 20, was accused of using sorcery to kill a six-year-old boy in the provincial capital of the country's Western Highlands.  The boy's relatives carried out the public killing, and the crowd reportedly prevented police officers and firefighters from intervening.
"The case adds to the growing pattern of vigilante attacks and killings of persons accused of sorcery in Papua New Guinea," said Cecile Pouilly, a spokesperson for the Office of the U.N. Office of the High Commissioner for Human Rights.
The U.N. human rights office in Geneva added that it was disturbed by Leniata's killing, which came after three women and two men were accused of using sorcery to kill another person last November.  Vigilantes held the five alleged witches for nearly three weeks, torturing them with iron rods and knives heated with fire before killing them.
Rashida Manjoo, a UN investigator who visited Papua New Guinea last March, said sorcery accusations are commonly used to deprive women of their land and property.
"I was shocked to witness the brutality of the assaults perpetrated against suspected sorcerers," Manjoo said in a statement after her visit.  "Any misfortune or death within the community can be used as an excuse to accuse such a person of being a sorcerer."
In a statement on Friday, Amnesty International called violence against accused witches as being endemic across the country.  The human rights organization detailed a July incident in which police arrested 29 people accused of being involved in a witch-hunting gang that murdered and cannibalized suspected sorcerers.
A national police spokesperson said Deputy Police Commissioner Simon Kauba was incensed by the investigators' failure to make an arrest by Friday.
"He was very, very disappointed that there's been no arrest made as yet," said spokesperson Dominic Kakas.  "The incident happened in broad daylight in front of hundreds of eyewitnesses, and yet [they] haven't picked up any suspects yet."
As many as 50 people are suspected of having "laid a hand on the victim," Kakas said.  The prime suspect is Leniata's husband, who is believed to have fled the area.  Kakas added that he was unsure of any relationship between the husband and the dead boy's family.
For further information, please see:
The Age — UN Demands End to 'Witch' Deaths in PNG — 10 February 2013
ABC News — Accused Witch Burned Alive in Papua New Guinea — 8 February 2013
International Business Times — UN: We Condemn Witch Burning in Papua New Guinea — 8 February 2013
Sky News — Papua New Guinea: 'Witch' Burned Alive by Mob — 8 February 2013
Author:
Impunity Watch Archive