By: Emily Green
Impunity Watch Reporter, South America
DURAZNO, Uruguay – Tens of thousands of farmers gathered in Uruguay to protest the government's excessive spending. Their main demand was tax cuts for the agricultural sector.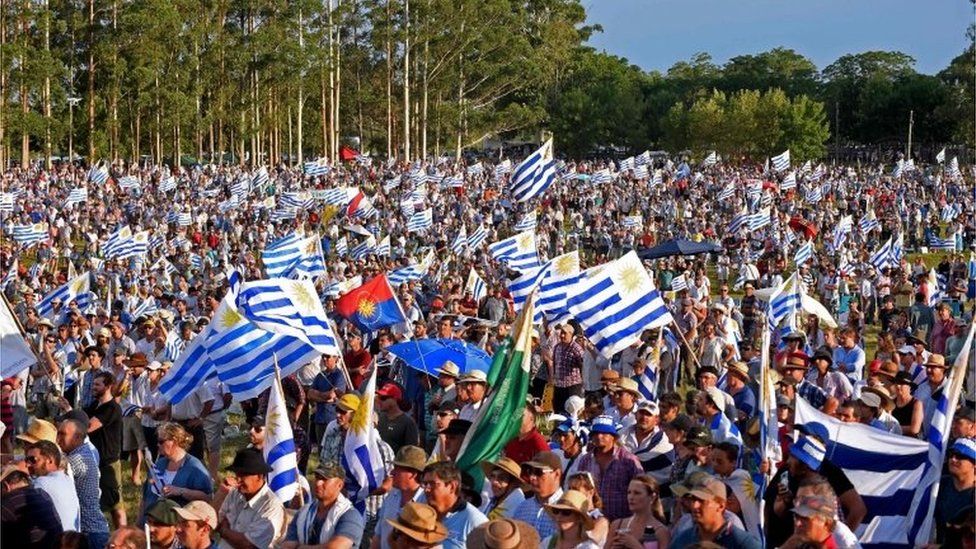 Uruguay is one of the world's largest cattle exporters and agriculture is key to its economy. Protestors claim that the government is spending excessively for itself and then handing the cost down to farmers. They reference spending on things such as office rents and the government's fleet of vehicles, and ask that the Uruguayan government review its fiscal and government companies' policies. The goal is to decrease the costs of fuel and power, as well as municipal level taxes on land.
The demonstration occurred in the city of Durazno under a massive display of unity. Farmers and their families waved Uruguayan flags as they gathered in tractors, vans, trucks, harvesters, and on horseback. This mass gathering is the first major protest the Frente Amplio (Broad Front) coalition government has ever experienced. The coalition came to power almost thirteen years ago.
Federico Hozman, the organizer of the protest, explained, "We're sick of our voices being ignored, but when it comes to collecting taxes, we're not ignored." The movement began with several farmers who were disappointed by President Vazquez's decision to repeatedly postpone their meeting request. Soon after, the protest expanded to other groupings and lobbies such as industry, exporters, manufacturers, and tourism. It became known as the "One Uruguay" movement.
In response to the massive demonstration, the government media tried to downplay the event by saying that attendance was lacking. Even radical groups tried to label it as a political play by the opposition. Nevertheless, the farmers have strong numbers to argue. The costs of the Uruguayan government have increased from $3.3 billion in 2004 to $17 billion today. The payroll has added a huge amount of new staff and green energy promises have fallen through. Additionally, money exchange rate is an issue. A recent report from the IMF announced that the US dollar in Uruguay was undervalued and should be at least 15% more expensive.
The protest ended peacefully as the farmers were promised the opportunity to present their proposals to President Vazquez.  They handed over a list from independent farmers and are told they will be brought into talks with leaders of the country's agricultural associations. The list includes fixing conditions of highways and roads, cutting gas costs, correcting currency issues, and dropping electricity costs. The protestors hope that these changes will limit competition conditions for the farming industry.
For more information, please see:
Herald Tribune – Uruguay President to Study Demands of Small Farmers – 27 January 2018
Kaplan Herald – Uruguay farmers maintain mass protest over excessive prices – 27 January 2018
MercoPress – "Enough is enough," thousands of Uruguayan farmers tell the government – 24 January 2018
BBC News – Uruguay farmers hold mass protest over high costs – 24 January 2018