by Portia K. Skenandore-Wheelock
Impunity Watch Reporter, North America
UNITED STATES — On Friday prisoners in 40 prisons in at least 24 states went on a coordinated strike, refusing to do their assigned jobs, and are demanding an "end to prison slavery." This is one of the largest prison strikes attempted in decades. The date of the start of the strike coincides with the 45th anniversary of the 1971 Attica prison uprising. The Industrial Workers of the World's Incarcerated Workers Organizing Committee (IWOC) and the Free Alabama Movement organized and announced the strike in a statement, "Slavery is alive and well in the prison system, but by the end of this year, it won't be anymore. This call goes directly to the slaves themselves."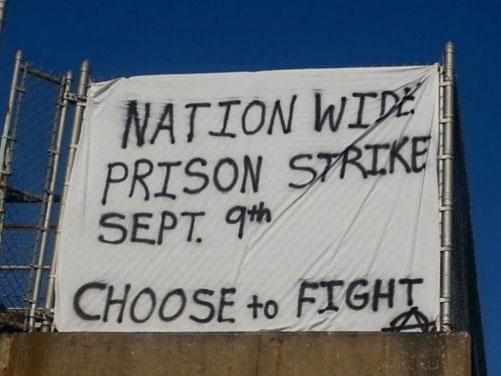 As state budgets have been cut the over 2 million prisoners in the United States have been a source of cheap, and in some states free, labor. New work programs have prisoners repairing public plumbing, doing underwater welding, cleaning up roadkill, and maintaining public spaces. Prisoners' jobs also go beyond public works and services. Corporations, such as Starbucks, Wal-Mart, Victoria's Secret, McDonald's, IBM, and AT&T, have tapped into prison labor by making deals with both private and public prisons. Prisoner laborers make 12 to 40 cents per hour yet the annual dollar value of their work output is estimated to run in the billions. "We want people to understand the economics of the prison system. It's not about crime and punishment. It's about money," says Melvin Brooks-Ray, founder of the Free Alabama Movement and an inmate for 17 years.
Since labor law does not consider prisoners employees, they are not allowed to unionize. IWOC is trying to change that and encourages prisoners to join without charging union dues. IWOC's site says, "You cannot change this situation through a grievance process that doesn't work…or through courts that are clearly against you…or through petitions to lawmakers who don't care about you because you don't vote…or through hunger strikes against prison officials who want you to starve…or through letters to newspapers who have ignored this situation for decades."
Prisoners in different states have other demands beyond fair wages for their work, such as an end to long-term solitary confinement policies, poor healthcare, poor quality of food, violent attacks, overcrowding, fairer parole policies, and reinstating educational courses for high school diplomas. "Different prisoners have different goals and aims, it's looking like it's going to be a state-by-state thing," said Brianna Peril, co-chair of IWOC and a former prisoner. In response to these non-violent strikes, many prisons are engaging in lockdowns and barring prisoners' access to communication.
For further information, please see:
Democracy Now! – Nationwide Prison Strike Launches in 24 States and 40 Facilities Over Conditions & Forced Labor – 9 September 2016
The Guardian – Inmates Strike in Prisons Nationwide Over 'Slave Labor' Working Conditions – 9 September 2016
The Independent – Inmates Launch Massive Nationwide Strike to Protest 'Modern Slavery' in US Prison System – 9 September 2016
Vice News – Prisoners all Over the US are on strike for 'an end to prison slavery' – 9 September 2016
Wired – How to Organize the Largest US Prison Strike Ever…From Inside Prison – 9 September 2016
Author:
Portia Skenandore-Wheelock