By: Max Cohen
Impunity Watch Reporter, South America
CARACAS, Venezuela – Earlier this year, during a huge economic crisis, protests began against the ruling government of Nicolás Maduro in Venezuela. In April, the protests escalated after the country's Supreme Court, controlled by Maduro loyalists, attempted to dissolve the country's legislative National Assembly. Now Maduro has taken another apparent attempt to silence the critics of his government by prosecuting civilian protestors before military courts.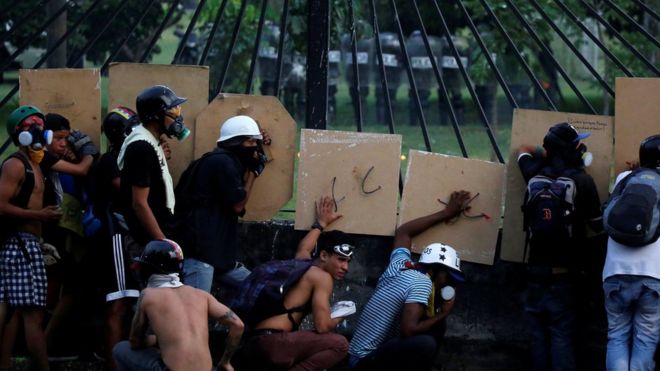 According to the BBC, at least 50 have been detained thus far, while the New York Times estimates that the minimum number of actual detentions reaches as high as 120. If the protests continue, it is likely that number will rise.
The trial of civilians in military courts is traditionally forbidden, both by international law and Venezuela's own constitution except in crimes, "of a military nature." However, the prosecution of these protestors in military, rather than civilian courts, is claimed to be justified by the Venezuelan government's Zamora Plan. On its official blog, Human Rights Watch describes it as an initiative meant to address, "internal and external attacks that threaten the country's peace and sovereignty." However, critics of this action claim it is nothing more than an attempt by Maduro's government to crack down on and silence the protests.
A researcher from Human Rights Watch claimed that the shift is because the government can control the results in said courts. Although, it should be noted that even in civilian courts, liberal judges and prosecutors have caused hundreds to be jailed in the past. Rights groups point to the fact that there is a different standard of evidence in military courts, as well as the lack of due process protections for defendants as proof that the system is rigged against them. However, at least for now it does not appear that this move has dissuaded protestors from taking to the streets.
For more information, please see:
New York Times – Venezuela Tries Protestors in Military Court 'Like We Are in a War' – 12 May 2017
BBC – Venezuela military courts 'used against protesters' – 9 May 2017
Human Rights Watch – Civilians Tried by Military Courts – 8 May 2017
NBC News  – Venezuela Protests and Economic Crisis: What Is Going On? – 8 May 2017
New York Times – At Least 3 Die in Venezuela Protests Against Nicolás Maduro – 19 April 2017