By: Emily Green
Impunity Watch Reporter, South America
CARACAS, Venezuela – The people of Venezuela are starving as the economic and political situation in their country worsens. Thousands flee every day because there is not enough food to survive in their homes. This country that was once an economic hub in South America can no longer sustain its population.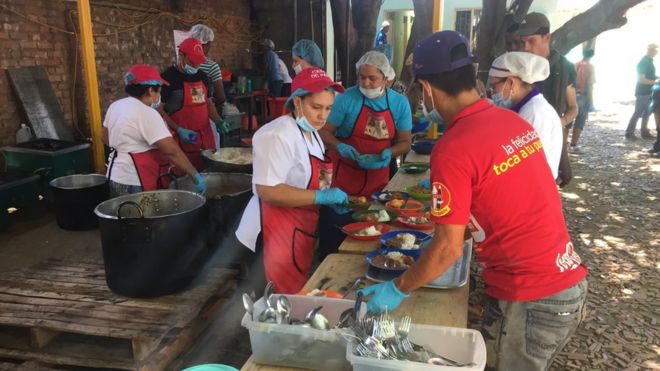 With little food available in Venezuela, people look across the border for help. An estimated 25,000 people cross the Simon Bolivar International bridge into Colombia each day. The town of Cucuta in particular has been swarmed with hungry immigrants. One local church feeds between 600 and 2,000 people a day. Immigrants line up in the open-air courtyard set with plastic tables and chairs. Most say they cannot find work back home and come to this church for their only proper meal of the day.
In order to facilitate this mass migration, the Colombian government has recently introduced "border mobility cards." These allow Venezuelans to move freely across the border without a passport. This is useful for those who go home to Venezuela after getting fed, but some do not ever want to return. Many have remarked that they will not return until their President is gone. One Venezuelan condemned Maduro saying, "he's a president who spends money while his people die of hunger."
For those that stay in Venezuela, aid is severely limited. One soup kitchen at a Catholic Church in Caracas can only serve children. Relying solely on donations, it serves 100 children every day and there are never any left overs. Parents, who would rather beg than let their kids go hungry, often have to be turned away. One parent remarks, "sometimes my wife and I do without food so at least the children can eat twice a day."
President Maduro released "Plan Rabbit" in an effort to solve his country's hunger crisis. Basically, he asks that Venezuelans eat their pet rabbits as a source of protein. The agricultural minister, Freddy Bernal, remarked with a smile, "the rabbit isn't a pet, it's only two and a half kilos of meat." This country does not commonly consume rabbit and is more used to them as pets. The suggestion that communities should raise rabbits as sustenance was seen as a desperate and extreme measure taken by the President.
Strict food rationing, surging malnutrition, and starvation all became prevalent when the armed conflict began a few years ago. As the economy spiraled, the population's nutrition did as well. Most Venezuelans have lost significant weight as a result. "A national poll found that Venezuelans lost 19 pounds on average in 2016 due to food shortages." Malnutrition continues to afflict thousands of people. There has been an infant mortality rise from 35% to 65%. Nutrition in children has dramatically declined while the number of deaths from malnutrition grows.
While all this happens at home, President Maduro focuses his concern on building his army for the war with the U.S. "that will likely never come." The leader blames President Trump and the United States for his country's economic crisis and denounces the sanctions brought against them.
For further information, please see:
Fox News – Escape from Venezuela: Colombia border crossing mobbed as starving citizens flee – 28 September 2017
CNS News – No Need for TP or Toothpaste in Venezuela Because There's No Food – 28 September 2017
BBC – Venezuelans cross into Colombia as crisis deepens – 28 September 2017
Bloomberg Businessweek – From 172 to 115 Pounds: The Faces of Venezuelan Hunger – 27 September 2017
Aljazeera – Venezuelan families scavenge for food to survive hunger – 25 September 2017
CNN Money – Can rabbit meat save Venezuela from going hungry? – 14 September 2017