By Kathryn Maureen Ryan
Impunity Watch, Managing Editor
KATHMANDU, Nepal – Aid has been slow in reaching the most isolated communities in Days after the devastating 7.9 Magnitude Nepal after the devastating earthquake that struck the small mountainous country four days ago, claiming the lives of at least 5,000. People remain stranded, waiting for rescue and aid, in many of the countries remote towns and villages. While the relief efforts continued Tuesday, government officials warned that they were hindered by problems of getting aid into Nepal and then delivering it to the nation's remote Himalayan communities in desperate need.
The government has declared three days of mourning in Nepal for the victims of Saturday's earthquake which claimed the lives more than 5,000 people, left at least 10,000 people wounded and effected eight million people across the country, many of whom have now been displaced as a result of the large scale devastation. Nepalese Prime Minister Sushil Koirala says the government is doing all it can but is overwhelmed by the scale of the catastrophe. Thousands of people remain unaccounted for, especially in remote Himalayan villages, and Prime Minister Sushil Koirala has warned that the death toll could rise to more than 10,000 people.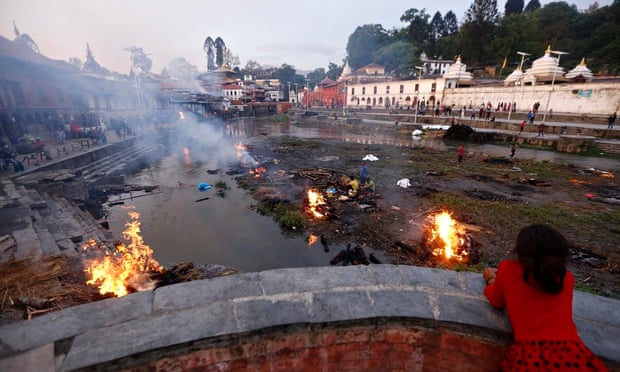 Aid efforts are still ongoing in the nation's capital. On Tuesday heavy rains hampered the recovery effort in city of Kathmandu. The country's Armed Police Force (APF) is now being assisted by teams from both China and India. APF officers are concerned that if bodies of the deceased are not recovered in time from the collapsed buildings that can be seen all over the historic city, an epidemic will break out in the city, putting even more lives at risk. "We are working as fast as we can and our response teams are moving from place to place but there is still a lot of work to do. Besides recovering the bodies, we believe that there may still be some survivors buried under all that rubble," says one APF commander. The United Nations estimates that eight million people in 39 districts across Nepal have been affected by the devastating earthquake, more than a quarter of the nation's population.
When addressing the nation to announce three days of mourning for the victims of the tragic disaster Prime Minister Sushil Koirala stated that his government was according top priority to rescue and search for the missing, and provided much needed medical treatment of the injured. He also promised that the nation would rebuild the historical, cultural, archaeological and religious monuments destroyed in the devastating earthquake.
For more information please see:
BBC News – Nepal Earthquake: Official Mourning Declared For Victims – 28 April 2015
CNN International – Nepal Earthquake: Death Toll Passes 4,600 As Rescuers Face Challenges – 28 April 2015
The Guardian – The Guardian's View on the Earthquake in Nepal: It Will Be a Long Road Back – 28 April 2015
The Hindu – Quake Death Toll Could Reach 10,000, Says Nepal Prime Minister – 28 April 2015
Author:
Kathryn Maureen Ryan