By Kathryn Maureen Ryan
Impunity Watch, Managing Editor
WASHINGTON D.C., United States of America – Looting and violence erupted in the streets of Baltimore, the 26th most populous city in the United States, following the funeral of Freddie Gray, a 25 year-old unarmed African American man who died as a result of injuries allegedly suffered while he was in police custody. Despite the families call for peace and request that no demonstrations be held on the day their son was to be laid to rest riots broke out a few blacks away from the church where Mr. Gray's funeral was held. Seven Seven Baltimore police officers were injured on Monday as rioters threw bricks, broke windows, looted businesses and burned police cars. One of the injured police officers is reportedly unresponsive. Maryland's Governor declared a state of Emergency.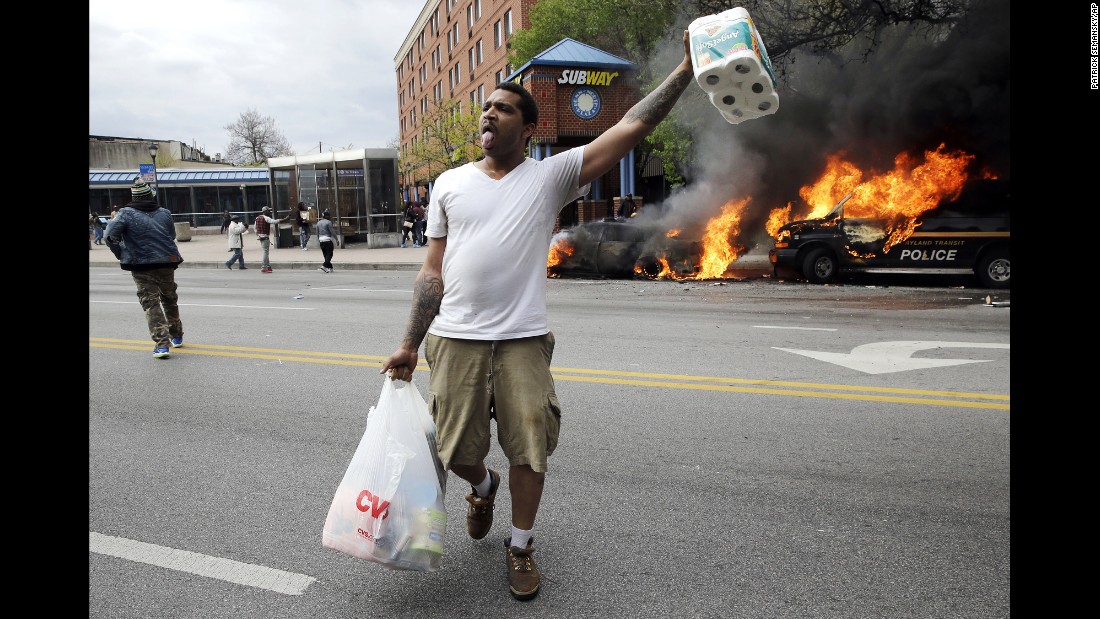 The riots are the first major crisis faced by Loretta Lynch, who was sworn in as the nation's first African American Attorney General earlier this morning. Following her swearing in, Lynch said improving relations between police and the communities they protect will be a high priority. "We can restore trust and faith both in our laws and in those of us who enforce them," she said. Lynch met with President Obama this afternoon to discuss the riots unfolding in Baltimore, a city located just 40 miles from the White House in Washington D.C.. The Obama Administrator sent three delegates to Freddie Gray's funeral including Broderick Johnson, a native of the city and the chairman of the My Brother's Keeper Task Force.
With the exception of clashes with police on Saturday the demonstrations against police brutality in Baltimore have largely been peaceful. Police initially showed restraint on Monday as high schoolers began protesting and rioting in the streets but then began arresting protesters who allegedly were engaged in looting and attacks on police and intrastate as the violence erupted. Police also prepared to use teargas and pepper spray in an attempt to disperse crowds and prevent further damage. Looters broke into several privately owned establishments and began steeling goods. A CVS Pharmacy was looted and set ablaze in a neighborhood that has no grocery stores.
Police called on local businesses to closer early and for people to stay away from the affected areas if possible. The Baltimore Orioles game at Camden Yards, located near the neighborhood where the riots are occurring, was postponed. Church leaders belonging to local Christian churches as well as the Nation of Islam have called for peace. Reverend Jamal Bryant, the Gray family pastor and one of the primary leaders of the peaceful protests calling for justice for the Gray family, has condemned the violence and called on all involved to stop and go home. He criticized looters for disrespecting the Gray family's wishes for peace in the wake of their son's horrific death. "It is disappointing just a few hours after putting Gray to rest," Reverend Jamal Bryant said. "This is not what the family asked for today of all days. This was a day of sacred closure."
For more information please:
CNN International – Baltimore Protests Turn Violent; Police Officers Injured – 27 April 2015
CNN International – Baltimore Protests Turn into Riots – 27 April 2015
CNN Politics – White House, Lynch Turn To Baltimore – 27 April 2015
Reuters – Violence Erupts After Funeral of Baltimore Man Who Died In Police Custody – 27 April 2015
Author:
Kathryn Maureen Ryan