By Lyndsey Kelly
Impunity Watch Reporter, North America
GUATEMALA CITY- Guatemala – A planned mega-dam in Guatemala has been linked to grave human rights abuses, including the killing of six indigenous people, two of them children. The dam's carbon credits will be tradable under the European Union's trading system. Several European banks and the World Bank's International Finance Corporation have provided funds for the $250 million Santa Rita dam.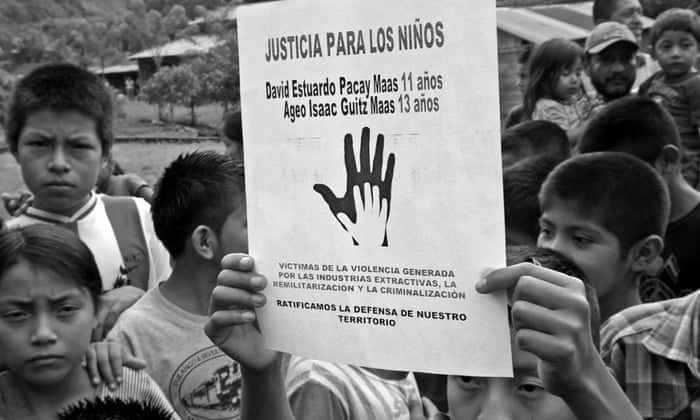 The Mayan community stated that they were never consulted about the hydro project, as it is reported to forcibly displace thousands of people in order to generate 25MW of energy, which will me mostly exported to neighboring countries. The issue has caused the indigenous protest in Guatemala. The People's Council of Tezulutlan wrote a letter to the UNFCCC'sCDM executive board, which outlined human rights abuses that have occurred in the region attributable to the planned dam. The abuses included kidnappings, evictions, house burnings, physical attacks, and the arrest of community leaders.
The situation started to deteriorate last August, when 1,500 people were sent into Q'eqchi' communities of Coban, Chisec, and Raxruha, to evince residents for dam construction. Citizens said that the police fired tear-gas at villagers who has set up a blockade, and proceeded to occupy the area. It is alleged that the officers pillaged the community, stealing animals, food, property and money, forcing families to take refuge in the mountains.
The annual report of the UN's High Commissioner for Human Rights implicitly blamed the approval of the dam for the outbreak in violence. A member of the European Parliament's development committee said, "These allegations are well-documents and it is outrageous that the UN's CDM can register such projects that are clearly violating the human rights of indigenous peoples."
A spokesman for the IFC told the Guardian that the project has only been given the green light for funding on the understanding that it would increase access to local, affordable electricity. "The project is on hold, as the fund manager discuses further with the local communities," the spokesman said.
Fore more information, please see the following:
ECO NEWS TODAY – 'Green' dam linked to killings of six indigenous people in Guatemala – 26 March 2015.
THE GUARDIAN – ' Green' dam linked to killings of six indigenous people in Guatemala – 26 March 2015.
Author:
Impunity Watch Archive