By Sarah Lafen
Impunity Watch Desk Reporter, Europe
PARIS, France — This past Monday, at 4:34pm, women across France staged a walk-out from their jobs in order to protest the disparity in salaries and wages between women and men.  Women's rights group Les Glorieuses called for the protest, deciding that the issue of wage disparity finally needs to be addressed in France.  200 women were gathered in Place de la Republique by 5pm on Monday, and there were protests staged in other cities across France as well.  Thousands of women were seen on social media leaving their jobs on Monday afternoon.  The movement became known as "7 november 16h34."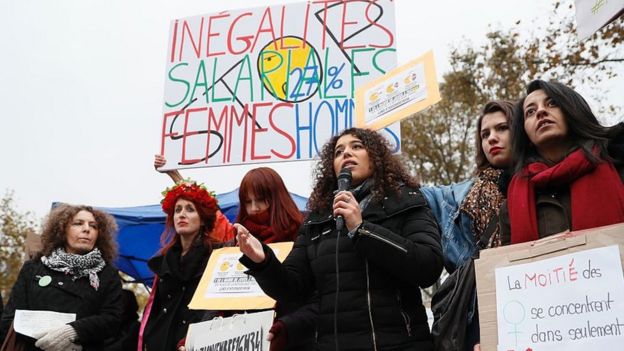 Les Glorieuses was inspired by a similar and successful protest in Iceland last month.  For the past 11 years, women in Iceland have been walking out on the same day and time that they should leave if they were to be paid the same hourly wage as men.  Iceland's pay gap between men and women's hourly wages is 14%.
In France, women were urged to leave at exactly 4:34pm because according to their calculations, after this point women will have been essentially working voluntarily.  In 2010, the gap between men and women's average hourly wage was 15.5%, which means that a woman in France must work 38.2 days more than a male counterpart in order to be awarded the same salary.  Rebecca Amsellem, founder of Les Glorieuses, "thought the difference would maybe be 10 working days, not a month-and-a-half."
Amsellem urged that at exactly 4:34pm on Monday, "women essentially stop being paid."  Osez le Feminisme, another women's rights group, is supporting the movement as well and has called on French companies to be fined if they do not respect equal pay laws.  Les Glorieuses also claims that factored in to the percentage of pay difference between men and women is the notion that women do 1.5 more hours of unpaid housework every day than men.
In recognition of the movement, Paris mayor Anne Hidalgo suspended the city council for the afternoon. French minister for women's rights, Laurence Rossignol, voiced her support for any women from her office who wished to take part in the protest. Rossignol told reports that "[w]hen women protest, they make visible what is invisible, when they speak their outrage and raise collective indignation even higher, I support it."
For more information, please see:
BBC — Why did some French Women Walk out of Work Early? — 7 November 2016
IBT — Following Icelandic Example, Women in France Walked out of their Jobs at 4:34pm — 7 November 2016
The Local —  Women in France Urged to Walk out of Work Early — 7 November 2016
RT — French Women Stage Mass Walkout in Protest Against Wage Gap — 7 November 2016
The Washington Post — Women Across France will Leave Work at 4:34pm Today.  Here's Why. — 7 November 2016