By: Adam King
Impunity Rights News Reporter, Africa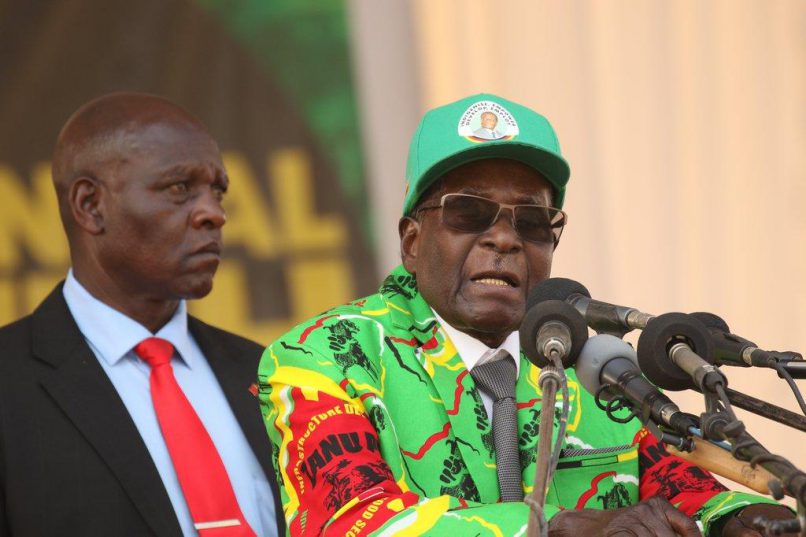 HARARE, Zimbabwe  — The World Health Organization has reversed its position on Zimbabwe President Robert Mugabe. Amid harsh criticism, WHO has decided to rescind Mugabe's role as a "goodwill ambassador" to the organization, according to General Director Tedros Adhanom Ghebreyesus,
"I have listened carefully to all who have expressed their concerns, and heard the different issues that they have raised…I have also consulted with the government of Zimbabwe and we have concluded that this decision is in the best interests of the World Health Organization. I thank everyone who has voiced their concerns and shared their thoughts."
The announcement from General Director Ghebreyesus comes amid mounting pressure and public outcry from leaders all throughout the world such as Canadian Prime Minister Justin Trudeau, who referred to the appointment as "absolutely unacceptable, absolutely inconceivable" and equated the appointment to a bad April fool's joke. Hillel Neur, Director of UN Watch, saw the appointment as an offensive display to the very core of international human rights.
"The government of Robert Mugabe has brutalized human rights activists, crushed democracy dissidents, and turned the breadbasket of Africa — and its health system — into a basket-case. The notion that the U.N. should now spin this country as a great supporter of health is, frankly, sickening," UN Watch executive director Hillel Neuer said in the statement. "Amid reports of ongoing human rights abuses, the tyrant of Zimbabwe is the last person who should be legitimized by a U.N. position of any kind."
The position in question was of an ambassador-related appointment to an initiative to combat NCD (non-communicable diseases) in Africa. The position was more honorary and advisory in nature as opposed to carrying out responsibilities with WHO.
"The heads of U.N. agencies and the U.N. secretary-general typically choose celebrities and other prominent people as ambassadors to draw attention to global issues of concern, such as refugees (Angelina Jolie) and education (Malala Yousafzai). The choices are not subject to approval. The ambassadors hold little actual power. They also can be fired."
Despite the customary nature of the appointment, critics still took issue from the implications of the position.
"Mugabe, 93, one of the longest serving leaders in the world, seems a particularly unusual appointment for goodwill ambassador, given his high profile as the leader of a government with a poor record of democratic freedoms." Critics also lamented the appointment for Mugabe's prowess in health-related matters, stating in part that "the idea that Mugabe was appointed because of his contributions to public health given the collapse of Zimbabwe's healthcare system under his watch, along with the country's economy in recent years."
The health care system in Zimbabwe stands on shaky ground, with many calling for reforms to address widespread problems in the system.
"In Zimbabwe, medicines are often in short supply, while the elite ‑ Mugabe included ‑ have to fly to other countries to access better health facilities. Over the years, health workers have always petitioned the government to improve their working conditions and salaries. Doctors in the country have also been at loggerheads with their employers, going on strike several times after accusing government of failing to meet their concerns. The doctors accused the health and child care ministry of a "lipstick approach" to their issues, saying the health sector was "pregnant with a multitude of problems emanating from gross negligence and lack of will to implement logical decisions"
Aside from health care, some claim that Mugabe's actions have created problems that are directly attributable to his leadership.
"Zimbabwe was once was known as the region's prosperous breadbasket. But in 2008, the charity Physicians for Human Rights released a report documenting failures in the southern African nation's health system, saying Mr Mugabe's policies had led to a man-made crisis."
For more information, please see:
ABC News — 'World Health Organization rescinds Zimbabwean President Robert Mugabe's 'goodwill ambassador' appointment amid scathing criticism' — 22 October 2017
Independent — 'World Health Organisation rescinds appointing of Robert Mugabe as goodwill ambassador' — 22 October 2017
Reuters — 'Mugabe removed as WHO goodwill envoy after outrage' — 22 October 2017
The Citizen — 'WHO rescinds Mugabe goodwill ambassador role' — 22 October 2017
The Inquirer — 'World Health Organization revokes appointment of Mugabe' — 22 October 2017
Quartz — 'It's not so surprising WHO's new director tried to make Robert Mugabe a goodwill ambassador' — 22 October 2017
The Washington Post — 'The Latest: Canada PM 1st thought Mugabe post was bad joke' — 21 October 2017  
Author:
Impunity Watch Archive