By Christine Khamis
Impunity Watch Special Features Editor
For years, unrest in China's Xinjiang region has led to the injury and deaths of hundreds of people. Muslim people in the region, predominantly the Uighurs, have experienced persecution under the Chinese government, which claims that such actions are part of its growing campaign against terrorism.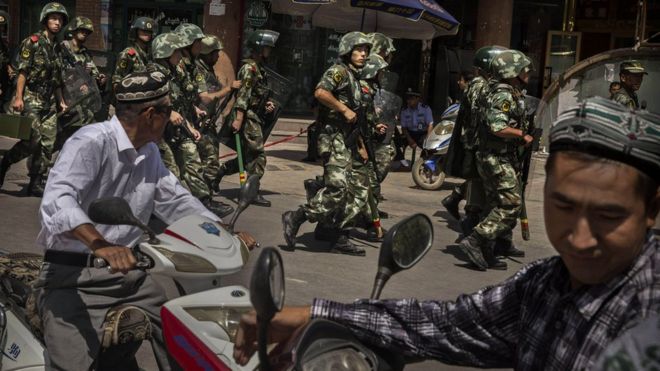 Previously, Xinjiang was a short-lived independent state named East Turkestan, before China asserted control over the region in 1949. Xinjiang was historically not considered part of China before that point.
The ethnic majority in Xinjiang is made up by the Han Chinese. About 10 million Uighurs also live in Xinjiang, and make up nearly half of the population in the region. Many Uighurs live in southern Xinjiang, which is the poorest area in the region.
Xinjiang is rich in natural resources like oil, coal, and natural gas, and because of those resources, the Chinese government has provided incentives to Chinese citizens in order to facilitate their moving and settling there. Due to these incentives, many Han Chinese have migrated to the Xinjiang region. The presence of the Han Chinese in the region has grown exponentially in recent years, with an increase from the Han making up 6.7% of the population in the region to over 40% of the population in 2008. That migration is yet another factor impacting the presence of conflict in Xinjiang.
China's government states that the violence in the area is due to the mobilization of Islamic separatist and militant groups and that the East Turkestan Islamic Movement (ETIM), a Uighur Muslim separatist group, is the primary instigator of tension in the region.
ETIM is an al-Qaeda affiliated militant group and is concentrated in nearby states Afghanistan and Pakistan. The group has fought for some time to establish an independent state for the Uighurs. China blames ETIM for over two hundred terrorism-related attacks thatoccurred from 1990-2001, according to the Council of Foreign Relations, a United States based independent think tank.
While ETIM was officially considered an active terrorist group affiliated with al-Qaeda by both the United States and China in 2002, some experts on the region have questioned how active the group has remained in Xinjiang. Prior to recent years, the violence in the region appeared be directed toward local governments in response to their treatment of the Uighurs.
Rather than ETIM, human rights groups believe it is truly Beijing's treatment of the Uighurs fueling the ongoing conflict in Xinjiang. According to their view, it is the Chinese government's crackdown on the Uighurs, including its blaming of the Uighurs for fueling terrorist uprisings in the region and its curtailment of the Uighurs' religious and cultural practices, that has contributed to that unrest.
Nicholas Bequelin, East Asia director for Amnesty International has referred to the unrest as "homegrown self-radicalization that is made worse by repressive policies and an attempt to hollow out Uighur culture and religious practices."
The Chinese Communist Party has an agenda against what it perceives as "three evils" of extremism, separatism, and terrorism. According to the 2015 annual report from the U.S.-China Economic and Security Review Commission, the Communist Party's campaign against the said evils has "manifested in a heavy-handed security apparatus and led to the adoption of a repressive approach to Islam in Xinjiang".
Human rights groups state that China overstates the threat of Uighur separatists to justify its restrictions on the Uighurs. Some experts also state that the Chinese government may also be overstating the extent of ETIM's growth in the region.
China's repression of the Uighurs has heightened since 2009, as anti-terrorism efforts have become increasingly important to the Chinese government. As that repression heightens, conflict in the region also appears to have increased significantly.
In 2009, there were ethnic riots in Urumqi, Xinjiang's capital, which caused thousands of injuries and hundreds of deaths. Since 2013, there have also been attacks on a coal mine, a mosque, a market, train station, and in Tiananmen Square, all of which the Chinese government linked to Uighur militants.
Following a set of attacks in Urumqi that killed 43 people in 2014, Chinese officials began a "strike hard special operation" against terrorist forces in the country. The Chinese government has noted that that the operation facilitated the elimination of 200 terrorist groups and the execution of least 49 people.
Also in 2015, Chinese authorities hunted down alleged perpetrators of the coal mine attack in Xinjiang. Security forces killed 28 suspects in the process, women and children among them.
Following the Urumqi riots in 2009, Chinese authorities began to take measures to curb the perceived threat of terrorism in Xinjiang, such as building fences throughout the regions and closing off entire neighborhoods for security inspections. Uighurs are often required to display identification before entering their neighborhoods, while Han Chinese living in the same neighborhoods do not have to adhere to the same requirement.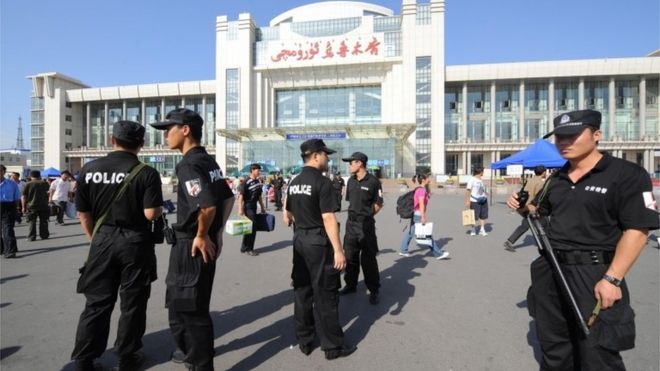 Authorities in Xinjiang maintain security checkpoints to check the ID cards and cellphones of citizens, primarily those of Uighurs. Cellphones are of particular interest to officials because they may contain apps or other software contributing to jihadist causes or allowing owners to communicate with individuals outside of China.
Uighurs are also disallowed from certain religious practices, including the covering of the head and face and accessing religious centers. Fasting during Ramadan is also strictly governed.
Many Uighurs are also discouraged from traveling, especially abroad, and some are even denied travel documents. Even those who are ultimately able to obtain travel documents go through an arduous process in order to be approved for those documents. In June 2016, the Chinese government determined that people in Yili, in Xinjiang's north-western region, would need to present DNA or other biological evidence when applying for travel documents.
Human rights advocates that have worked to eradicate conflict in Xinjiang face repression by the Chinese government as well. One such advocate, economist and Uighur supporter Ilham Tohti, was sentenced to life imprisonment for alleged separatism after he called for reconciliation between the Chinese and Uighurs. This year, two years after his imprisonment commenced, Mr. Tohti was announced as the winner of the Martin Ennals award for human rights defenders. The Martin Ennals Foundation described Mr. Tohti's work as that which fostered dialogue and understanding between the Han and Uighur populations in Xinjiang, but China's foreign ministry stated that the activist's case has nothing to do with human rights and is based purely on his separatist activities.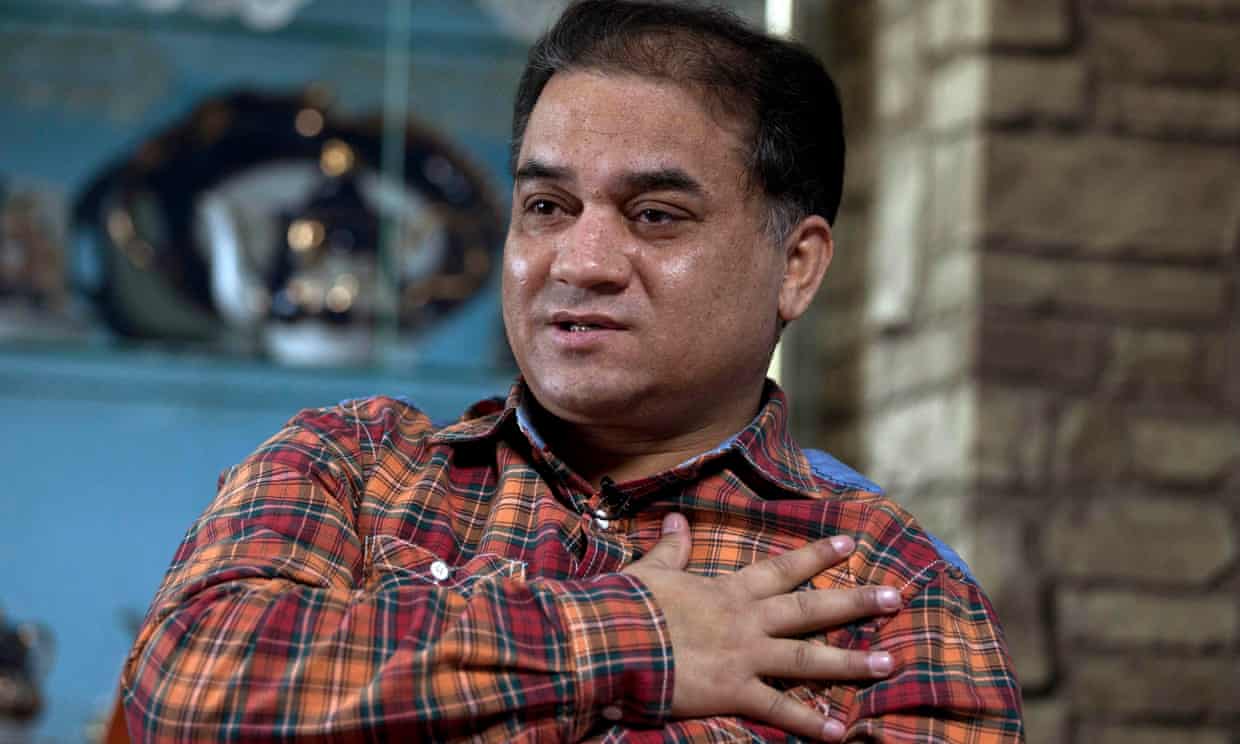 Additionally, members of the media, both foreign and national, have experienced persecution for their portrayal of the Uighur plight. It is difficult for foreign press to infiltrate Xinjiang to deliver news coverage of ongoing events, so coverage is limited. Officials in the region often do not respond to requests for interviews, and the aforementioned security checkpoints keep journalists from reaching specific parts of the region.
In December 2015, a French journalist was expelled from the country for an article that criticized Beijing's policies in the Xinjiang region and its treatment of the Uighurs. The journalist, Ursula Gauthier, published a story indicating that China could be using the Paris attacks to justify its crackdowns in Xinjiang. Ms. Gauthier's expulsion was the first foreign journalist to be expelled from China since 2012.
Even those who work for state-run media are not safe from punishment for what the government perceives as criticism of its policies regarding the Uighurs. In November 2015, the editor of newspaper Xinjiang Daily, was expelled from the state's official Communist Party and subjected to legal review for his improper discussion of clashes in the Xinjiang region.
China's crackdown on the Uighurs may in turn have driven some Uighurs to join terrorist organizations. When news sources began to report that Uighurs were fighting alongside affiliates of al-Qaeda in 2015, it became clear that some Uighurs were vulnerable to al-Qaeda and Islamic State recruitment techniques.
Both al-Qaeda and the Islamic State have pointedly highlighted the Uighurs' treatment by the Chinese in Xinjiang. In December 2015, Islamic State's foreign media division, Al Hayat Media Center, released a recording of a chant in Chinese which called for Muslims to rise up and fight for the Islamic State. It was unclear whether the chant designated China as a target, but China was previously identified by Islamic State leader Abu Bakr al-Baghdadi as a state in which the rights of Muslims are seized.
Additionally, Islamic State group leader Abu Bakr al-Baghdadi denounced China's treatment of the Uighurs and other Muslims earlier this year and spoke of an Islamic state reaching from Morocco to Xinjiang.
A report released in July 2016 by the New America Foundation, a non-partisan think tank, indicated that 114 Uighurs from Xinjiang had been recruited by the Islamic State. The report, which was based on leaked registration documents of Islamic State recruits, stated that policies enacted in the region could be a "push factor driving people to leave the country and look elsewhere for a sense of 'belonging'."
Earlier this year, a suicide bombing at the Chinese embassy in Kyrgyzstan was carried out by Zoir Khalilov, an ethnic Uighur who reportedly was an ETIM member. The GKNB, the State Committees of National Security for Kyrgyzstan and Tajikistan, reported that Uighur terrorist groups committed the attack and that Nusra Front, a splinter group of al-Qaeda in Syria, financed the attack.
The bombing was the first time a Chinese embassy has ever been attacked by a terrorist organization. Several other individuals were detained or arrested in connection with the attack.
China has increased its anti-terrorism efforts targeted at the Uighurs by joining efforts with other states. For example, in 2015, Thailand deported a group of 100 Uighurs who were attempting to reach Turkey and other nations that could offer refuge. The Chinese government claimed that the deportees were militants who intended to join the jihadist movement in Syria. Thailand's deportation sparked protests in front of a Chinese embassy and an honorary consulate in the country.
In August 2016, China instituted an anti-terrorism alliance with Pakistan, Afghanistan, and Tajikistan, all whom border with the Xinjiang region. China and Tajikistan held anti-terrorism drills in October, with over 400 troops participating.
China's President, Xi Jinping, visited Saudi Arabia in 2016 to discuss expanding security cooperation in the fight against terrorism. In October 2016, China and Saudi Arabia held joint anti-terrorism drills in southwest China, with about 50 individuals participating.
At the 2016 G20 Summit in September, President Jinping and Recep Tayyip Erdogan of Turkey pledged to strengthen ties in order to fight terrorism. Turkey and China previously had discord between them regarding China's treatment of the Uighurs, who ethnically identify as Turkish. Some Muslim political groups in Turkey have denounced China's treatment of the Uighurs, and at one point, Turkish protesters marched on the Chinese embassy and consulate in Turkey to fight that treatment. Jinping and Erdogan's pledge to increase ties between their states seems to have overshadowed that discord at least for the time being.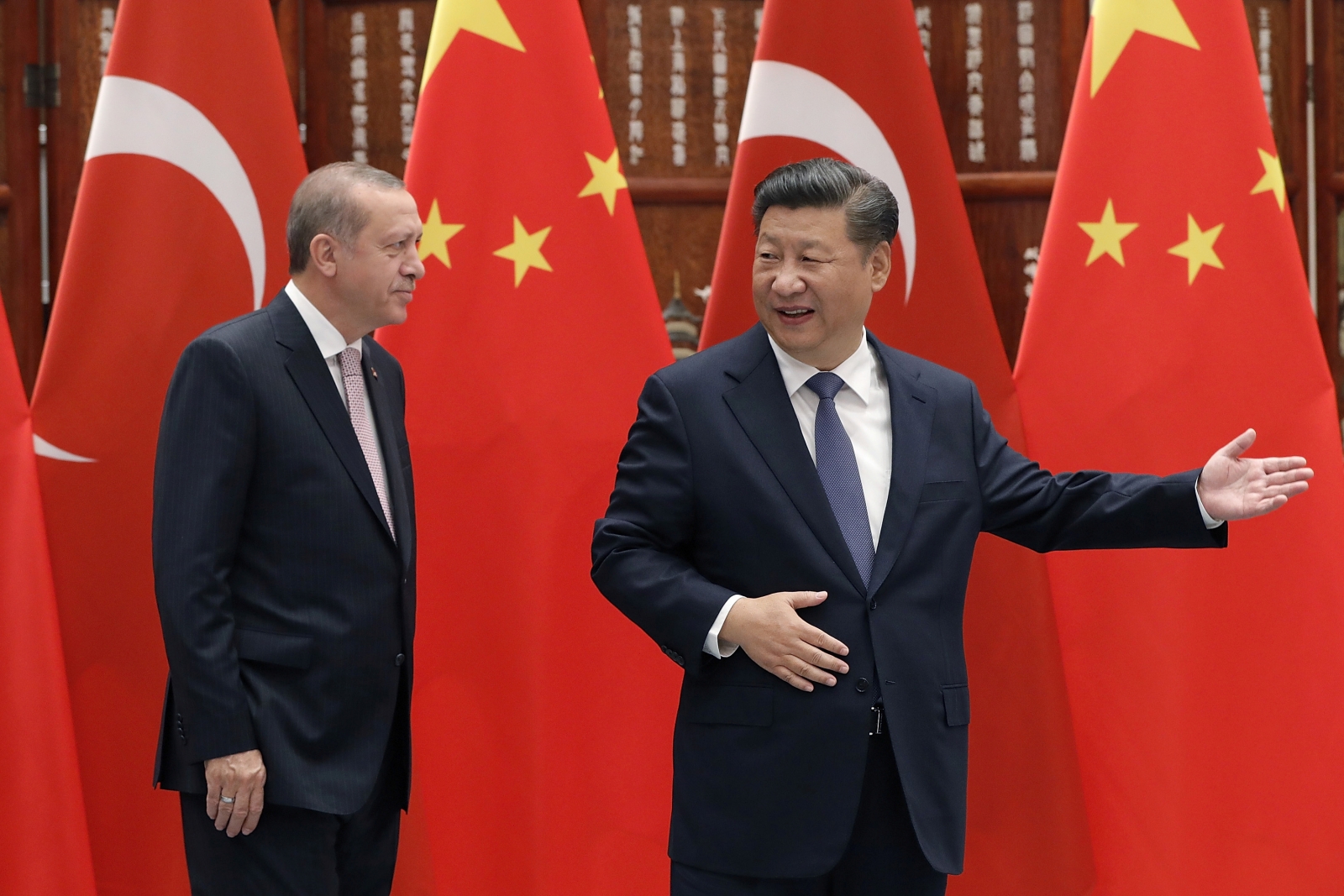 China's relations with Western nations regarding its anti-terrorism campaign and treatment of the Uighurs have not been as fruitful. Many critics of China's treatment of the Uighurs and its anti-terrorism campaign point to China's lack of transparency.
In June of this year in its annual anti-terrorism report, the U.S. State Department questioned China on its anti-terror campaign in Xinjiang, citing its lack of transparency and its effect on anti-terrorism cooperative efforts. China responded with a statement citing the need for the United States to respect China's fight against militants in the region.
In November 2015, China's state-run media also came out with a series of articles criticizing western nations for their failure to support China in its fight against Uighur militants in Xinjiang, stating that those nations refused to treat the Uighurs' actions as acts of terrorism.
For more information, please see: 
Al Jazeera – China, Saudi Arabia Hold Joint "Anti-Terror" Drills – 27 October 2016
Associated Press – Rising Uighur Militancy Changes Security Landscape for China – 9 September 2016
Associated Press via San Diego Union-Tribune – AP EXPLAINS: How Uighur Militants are Affecting China – 9 September 2016
The Atlantic – The Limits of Chinese Isolationism – 17 October 2016
BBC –Chinese Police Require DNA for Passports in Xinjiang – 7 June 2016
BBC – China Xinjiang Daily Editor Sacked After "Anti-Terror Criticism" – 2 November 2015
CNBC – As China Fights Uighurs in Xinjiang, Complaints Rise Over West's View – 25 November 2015
The Diplomat – China's Nightmare: Xinjiang Jihadists Go Global – 17 August 2016
The Economist – Xinjiang: The Race Card – 3 September 2016
The Epoch Times – CHINA SECURITY: China Uses Paris Attacks to Promote Persecution of Uyghurs – 24 November 2015
The Financial Times – Syria-based Uighur Militants Linked to Chinese Embassy Bombing – 7 September 2016
The Guardian – Ilham Tohti, Uighur Imprisoned for Life by China, Wins Major Human Rights Prize – 11 October 2016
The Guardian – China Expels French Journalist Who Questioned Treatment of Uighurs – 26 December 2015
International Business Times – China's Jinping Meets Turkey's Erdogan; Both Countries Pledge to Step up Counter Terrorism Cooperation – 3 September 2016
The New York Times – Xinjiang Seethes Under Chinese Crackdown – 2 January 2016
The New York Times – ISIS Extends Recruitment Efforts to China With New Chant – 8 December 2015
Reuters – China, Turkey Pledge to Deepen Counter-Terrorism Cooperation – 3 September 2016
TIME – Five Ways China Has Become More Repressive Under President Xi Jinping – 6 October 2016
TIME – China Will Have to Get Used to Being a Terrorist Target – 31 August 2016
TIME – Uighur Extremists Joining Isis Poses a Security and Economic Headache for China's Xi Jinping – 21 July 2016
UNPO – EU Annual Report on Human Rights and Democracy Recognizes Persistent Threats to Minorities – 26 September 2016
UNPO – East Turkestan: Daily Harassment and Physical Segregation of Uyghurs in China's Xinjiang Region – 24 August 2016
UNPO – East Turkestan: U.S. Criticizes Chinese Anti-Terror Campaign – 6 June 2016
War on the Rocks – Counterterrorism or Repression? China Takes on Uighur Militants – 18 April 2016