By: Gabriella Kielbasinski
Journal of Global Rights and Organizations, Associate Articles Editor
SOUTH OSSETIA & ABKHAZIA, Russia – The European Court of Human Rights (ECHR) recently reached a verdict thirteen years in the making. On January 21st, the ECHR found that Russia breached six articles of the European Convention of Human Rights due to their actions amidst the Russo-Georgian War of August 2008. This conflict centered around a dispute involving South Ossetia and Abkhazia, two "breakaway provinces" in Georgia. While these provinces are officially apart of Georgia, they proclaim to have separate governments, which were notably unrecognized by most countries. However, Russia did support South Ossetia and Abkhazia, thereby igniting years of tense conflict and eventual violence between Russia and Georgia.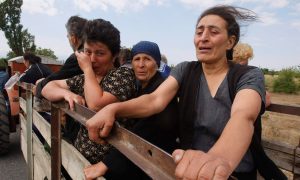 A review of Georgia's original 2009 application filed with the ECHR reveals a hefty list of claims. Georgia alleged that Russian military and/or separatist forces under Russian control perpetuated indiscriminate, heinous attacks against Georgian civilians. Over the course of a five-day conflict in August 2008, Russia was allegedly responsible for the murder and detainment of Georgian civilians, as well as the looting and burning of their homes. Specifically, Georgia accused Russia of unlawfully detaining ethnic Georgians and subjecting them to "inhuman and degrading treatment." After what Georgia characterized as a "rampage" through civilian villages, Russia then failed to investigate these war crimes and abuses and prevented 20,000 Georgians from returning to their burned down villages.
In so doing, Georgia asserted that Russia had violated eight articles of the European Convention on Human Rights. These breaches included: "the right to life, the prohibition of torture, the right to liberty and security, the right to respect for private and family life, right to an effective remedy, protection of property, and the right to education and the freedom of movement."
The ECHR held largely in favor of Georgia, finding Russia in violation of several provisions of international human rights law. It held by sixteen votes to one, that there were administrative practices by Russia which ran awry of "Articles 2, 3, and 8 of the Convention, involving the right to life, prohibition of torture and respect for private and family life, respectively, and Article 1 of Protocol No. 1 to the Convention, involving the protection of property." Furthermore, the ECHR held several points unanimously. Namely, that the detained Georgian civilians from August 10th through the 27th of 2008 did fall under Russian jurisdiction within Article 1 purposes. Therefore, Russia was further found in breach of Article 3, the prohibition of torture. The ECHR also found that Russia's subsequent failure to investigate these alleged war crimes and human rights abuses amounts to a breach of international law.
While Georgia's case highlighted direct Russian involvement in some violations, it did not demonstrate direct involvement in every part of its complaint. However, the ECHR emphasized that as the prisoners of war fell within Russian jurisdiction, Russia was responsible for the actions against them. The court discussed that while some of these actions may have been formally carried out by the self-proclaimed South Ossetian forces, Russia was present and failed to intervene. The ECHR explained that "strong Russian presence and the South Ossetian and Abkhazian authorities' dependency on the Russian Federation indicated that there had been continued 'effective control' over South Ossetia and Abkhazia." In light of Russia's effective control, their failure to intervene may be considered "official tolerance." The Court also explained, that "the de facto South Ossetian and Abkhazian authorities, and the Russian Federation, which had effective control over those regions, had a duty under the Convention to enable inhabitants of Georgian origin to return to their respective homes."
International reactions to the ECHR's recent decision to find Russia in breach of the European Convention of Human Rights for their actions in August 2008 has varied. The U.S. Embassy hailed the decision as a human rights victory and a necessary demand for Russia to honor other nations' sovereignty and territorial integrity. The Embassy added, "[Russia's] actions threaten the lives, culture, and personal freedoms of people living in these Georgian territories, and deny them the ability to exercise rights and access opportunities that should be available to all Georgian citizens." Numerous members of the European Parliament (MEPs) also praised the decision, declaring the holding to be "historic," citing that "[j]ustice prevailed over policy."
Meanwhile, allies of Russia, such as the Moscow-backed leader of Tskhinvali region/South Ossetia Anatoly Bibilov, have criticized the ECHR decision. Bibliov asserts that Georgia was no victim, but rather a perpetrator of the 2008 violence. Bibliov boils the entirety of the ECHR's decision against Russia to the West's "anti-Russian political course." It has yet to be seen what Russia's full reaction to the momentous ruling will be; however, given that Russia has previously been reported as on the brink of withdrawal from the ECHR, all eyes should be on Moscow for the Kremlin's response.
For further information, please see:
Civil Ge – European Court Verdict into Georgia vs. Russia Case over 2008 War – 21 Jan. 2021 
Civil Ge – S. Ossetian Leader Slams ECHR Verdict as 'Politicized' – 22 Jan. 2021
CNN – 2008 Georgia Russia Conflict Fast Facts – 31 Mar. 2020
Civil Ge – Int'l Reactions to European Court's Verdict – 22 Jan. 2021
Guardian – Luke Harding: Russia committed human rights violation in Georgia war, ECHR rules – 21 Jan. 2021