By: Timothy Murphy
Impunity Watch Staff Writer
HONG KONG, China — The ongoing strife in Hong Kong continues as 47 activists and politicians were charged with "conspiracy to commit subversion" on February 28th. These pro-democracy activists, who were charged under the new "National Security Law," had been arrested by authorities in early January of 2021. The National Security Law is another step in the string of continued attempts by mainland China to subvert the independence of the Hong Kong region.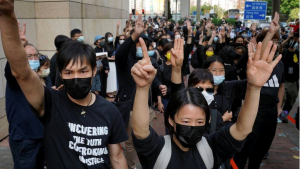 The group that was charged consists of 39 men and 8 women and includes well-known figures who led pro-democratic movements in Hong Kong in the wake of Beijing's strengthening grip on the region. Hong Kong, which was once a British colony, has long remained independent of its sovereign nation, China. Beginning in 2019, mainland China has been putting increased pressure on the freedom of Hong Kong, which has led to widespread protests from the citizens of the region.
The pro-democratic activists were arrested in January for running unofficial primary polls last summer in order to prepare for the upcoming election for Hong Kong's legislative body: the Legislative Council. In a further attack on democratic principles, the election was postponed, the purported reason being safety precautions related to the pandemic. Officials have described these polls as an attempt to undermine the Hong Kong government.  
After four days of bail proceedings, fifteen of the activists were granted bail. However, they were not allowed to leave custody due to a subsequent appeal filed by prosecutors. Under the controversial National Security Law, they face up to life in prison for the charge of "conspiracy to commit subversion."
In 2020, Beijing pushed for the creation of the "National Security Law" in an attempt to chip away at the independence and self-governance of Hong Kong. The law, which was put into effect on June 30th of 2020, reduces the self-governance powers of Hong Kong and criminalizes acts of secession, subversion against the central government, terrorism, and collusion. The law gives Beijing sweeping new powers to regulate the freedom of speech in Hong Kong, and even reserves interpretation of the broad law for Beijing: leaving room for even more power to be milked from the law with future judicial decisions. 
The passage of the National Security Law is a massive victory for mainland China in its efforts to further subjugate Hong Kong. It was met with protests from Hong Kong citizens. The charges laid against the 47 activists makes it clear that it is only becoming more dangerous for Hong Kong citizens to speak out against mainland China's attempts to further subjugate the region.
For further information, please see:
BBC NEWS – Hong Kong charges 47 activists in largest use yet of new security law – 2 Mar. 2021
BBC NEWS – Hong Kong protest held as 47 activists appear in court – 1 Mar. 2021
BBC NEWS – Hong Kong security law: What is it and is it worrying? – 30 June 2021
Hong Kong Free Press – 47 democrats charged with 'conspiracy to commit subversion' over legislative primaries – 28 Feb. 2021
Human Rights Watch – Hong Kong: 47 Charged Under Abusive Security Law – 2 Mar. 2021
South China Morning Post – National security law: 15 out of 47 Hong Kong opposition figures granted bail, but ordered to remain in custody pending prosecutors' appeal – 4 Mar. 2021
South China Morning Post – Hong Kong national security law: election bans, travel curbs, and more time in jail. What future awaits city's opposition with 47 defendants charged in biggest case yet? – 5 Mar. 2021
The Economist – Hong Kong's new security bill is being put to its biggest use yet – 6 Mar. 2021