By: Chandler Jacobs
3L at Syracuse University College of Law
Westchester, NY, it's 7'o clock in the morning and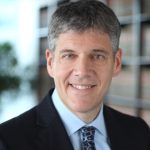 Southern District of New York Magistrate Judge Aaron has begun his daily 2-hour commute to the Courthouse. Just a few months ago, this was Judge Aaron's normal daily routine. Now, in the current state of the pandemic, the Judge is adjusting to his new normal. Sitting in his home office, I had the chance to interview Syracuse Law alum Judge Stewart Aaron who explains how he has been personally impacted by COVID-19, his thoughts on how this will affect the future of court proceedings, and the legal field as a whole.
Judge Aaron is a Magistrate Judge, so the majority of his work is pretrial conferences and settlement conferences, which is generally done in-person. The new normal is now conducting these conferences either via Zoom or by phone as the Judge has not done face to face court proceedings since Mid-March. The Judge explained that although he prefers face-to-face, he soon came to realize that a lot of what he was doing could be done over the phone. Further, the Judge added that the future of civil court proceedings might not be necessary and would help avoid complex issues and scheduling. Getting rid of in-person civil proceedings that do not require juries would save clients' money and alleviate lawyers of traveling costs. This would be a step towards the new normal for courthouse proceedings. The Judge did explain that there could be issues with this. However, this issue could be eliminated if both the parties in a bench trial consented to remote proceedings. With the exception of jury trials, remote proceedings are possible and would be a better way to save people time and money.  
The Judge believes that this will affect the entire legal field and it will be unnecessary for lawyers to be in court as much as they were pre-pandemic. Therefore, geographically speaking, there will be an incentive to appear from home, ultimately saving rent for law firms and money for lawyers. Although in-person settlement conferences are ideal and preferable, as it is easier to pick up on non-verbal cues and to read the parties' strengths/weaknesses, Judge Aaron says he is adjusting well this new normal. He believes that the future of settlement conferences will be remote because it saves time and money, but the downfall of remote courthouse proceedings is the loss of human interaction, which Judge Aaron explained he misses the most.
When asked about how the pandemic has affected his life, Judge Aaron said that the "largest effect on [his] life is that the pandemic has given [him] more time, [to catch up on work]." "In addition to having more time for work, [he] also ha[s] more time [to] exercise and relax." When the Judge is not — well being a Judge, he enjoys cooking, mastering different variations of rice and beans, which he calls a "nutritious and healthy dietary option." He also loves to read and has been "binge-watching some TV series, such as Dead to Me and House."
In the final moments of our interview, I asked him whether he had any advice for law students who are still seeking employment. His advice should resonate with all law students who are currently concerned about future employment.
"My advice is to be patient, but also to network as much as possible. You never know where your first job will come from. You should put yourself out in the legal and greater community so that you can learn of opportunities that you may no[t] even have thought about."