By: Christian González
Journal of Global Rights and Organizations, Associate Articles Editor
THE HAGUE, Netherlands – Ali Muhammad Ali Abd-Al-Rahman, an alleged leader of the Janjaweed militia in Sudan and commonly known as "Ali Kushayb", has been transferred into International Criminal Court (ICC) custody on June 9th, 2020. Charges against Abd-Al-Rahman include various crimes against humanity and war crimes. The confirmation hearing for these charges is scheduled provisionally for December 7th, 2020.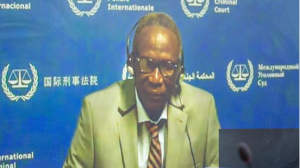 A Sudanese national, Mr. Abd-Al-Rahman has been accused of leading thousands of Janjaweed (Arabic for "mounted gunman") soldiers in the Darfur region of western Sudan. The Janjaweed, composed mainly of nomadic tribesmen of Arab descent, had been conducting aggressive raids on villages throughout Darfur in 2003 and 2004. Because the villages targeted were known sources of recruitment for the rebel armies involved in the Second Sudanese Civil War, it is believed that the Janjaweed were supported by the government of Sudan.
Mr. Abd-Al-Rahman's involvement with the Janjaweed allegedly included acting as a mediator between Janjaweed leadership and the Sudanese government, as well as enlisting, arming, supplying, and funding troops. He has been accused of both ordering troops to commit and personally participating in crimes against humanity and war crimes against civilians. These actions were allegedly conducted in a joint government-Janjaweed counter-insurgency campaign.
Two warrants for arrest against Mr. Abd-Al-Rahman had been issued. The first, issued on April 27th, 2007, lists 50 counts of crime. These crimes were composed of twenty-two counts of crimes against humanity that include deportation, imprisonment, torture, inhumane acts of inflicting serious bodily injury and suffering, and rape; and twenty-eight counts of war crimes that include violence to life and person, outrage upon personal dignity in humiliating and degrading treatment, intentional attacks on a civilian population, pillaging, rape, and destroying or seizing property. These acts were conducted from August 2003 to March 2004 in the towns of Kodoom, Bindisi, Mukjar, and Arawala and constitute violations of articles 25(3)(a) and 25(3)(d) of the Rome Statute respectively. The second warrant, made public on June 11th, 2020, adds three charges of murder and other inhumane acts done in Deleig in March 2004.
After voluntarily turning himself in to authorities in the Central African Republic, Mr. Abd-Al-Rahman was transferred to ICC custody on June 9th, 2020, and on June 15th, 2020 his identity was confirmed at a hearing before Judge Rosario Salvatore Aitala. The judge ensured that Mr. Abd-Al-Rahman was aware of the charges being brought against him. When asked about them, Mr. Abd-Al-Rahman stated that these charges were "untrue."
The confirmation hearing scheduled for December 7th will be held to determine if there is sufficient evidence to establish substantial grounds of a belief that Mr. Abd-Al-Rahman did indeed commit each of the alleged crimes. If any or all charges are confirmed, the case will move on to the trial phase. Mr. Cyril Laucci is serving as defense counsel for Mr. Abd-Al-Rahman. There is currently no representation for the victims.
For further information, please see:
International Criminal Court – Case Information Sheet: Situation in Darfur, Sudan – 15 June 2020
UN News – Arrest of Sudanese war crimes suspect 'extremely significant': UN rights chief – 9 June 2020
Slate – Who Are the Janjaweed? – 22 July 2004
International Criminal Court – Rome Statute of the International Criminal Court – 17 July 1998
Reuters – Sudan war crimes charges are untrue, suspect say – 15 June 2020
YouTube, IntlCriminalCourt – Ali Muhammad Ali-Al-Rahman case: initial appearance, 15 June 2020 ENGLISH – 15 June 2020