By: Spencer Kwabena Boateng Mensah
Impunity Watch News Staff Writer
ACCRA, Ghana – On May 31, 2021, an Accra High Court ordered against the senior high school's regulation that demanded Tyron Marhguy and Oheneba Nkrabea, two Rastafarians by religion, to cut their dreadlocks before being admitted into the school.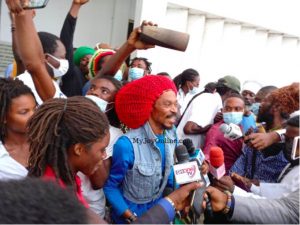 Achimota School and the Attorney General are in the Court of Appeals challenging a judgment by the Human Rights Division of the High Court which declared that wearing dreadlocks in the school is lawful.
In its judgment, the court stated that "[i]n the absence of such compelling justification grounded on the public good of the school as a whole in the face of constitutionally guaranteed rights, I am unable to tip the balance in favor of the implementation of the rule of the Respondents to restrict the Fundamental Human Rights of the Applicant to practise and manifest his religious belief."
The court further declared that the failure or refusal of the school to admit the applicant on the basis of his Rastafarian religion inclination, beliefs, and culture characterized by his keeping of rasta is a violation of his right to education guaranteed under Ghana's Constitution.
After admitting the students in their dreadlocks however, the school and the Attorney General have filed an appeal seeking the decision of the High Court to be set aside.
According to them, the High Court erred in declaring that the school's uniformity regulation which required the students to cut their dreadlocks interferes with his expression of religion.
Achimota School admission forms specify that admission is conditioned on "good academic work, good conduct and strict observation of all school rules and regulations." The rules among others require all boys in the school to "keep their hair low."
The judgment divided the public into two sides; while others praised the applicant for setting a precedent, others were concerned that the judgment will open a flood gate of non-compliance of schools' rules and regulations.    
Reacting to the appeal, father of Tyron, Tereo Marhguy told local news sources that the decision of the school to appeal is motivated by what the school's alumni want. "If [the school] had filed the appeal shortly after the ruling, it would have made sense," he stated and added that it was actually because his son was nominated to represent the school for the annual National Science and Maths Quiz.
Ghana's Constitution advocates for freedom of religion and right to education as fundamental human rights; and the people of Ghana are keenly waiting for a decision from the Court of Appeals on the case – which was filed on September 13, 2021. 
For further information, please see:
Citi Newsroom – Achimota School, AG appeal court ruling on rastafarian student Tyrone Marhguy – 13 Sept. 2021.
Hen Ara Ghana – Achimota vs Rasta students verdict: People are doing Facebook argument – Kwaku Azar – 6 June 2021.
Pulse Ghana – Achimota School's appeal against my son ill-motivated – Rasta student's dad – 15 Sept. 2021.
Author:
Kanalya Arivalagan