By: Jordan Broadbent
Impunity Watch Staff Writer
YAOUNDE, Cameroon —  On September 18, 2019, the African Commission on Human and Peoples' Rights found that Cameroon violated the freedom of expression, freedom of non-discrimination, and property rights when it failed to create an independent licensing authority for a broadcasting company.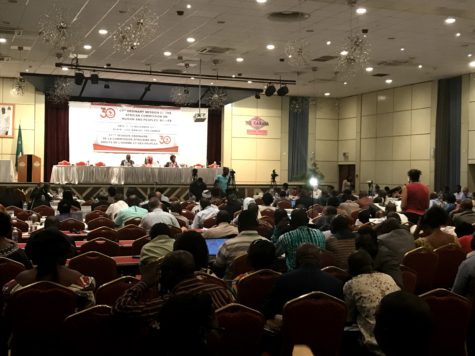 In 2002, Cameroon Radio Freedom FM, a current affairs radio station, applied for a broadcasting license and never received a conformation of this application, despite statutory deadlines. The station broadcasted anyway and was brought to court on charges of broadcasting without a license. In 2003, the Minister of Communication ordered the equipment of the station to be forcefully confiscated.
In 2004, the Open Society Justice Initiative took on the case on behalf of the radio station. After negotiations in 2005, the two parties reached an agreement where the government agreed to turn over the equipment and provide a license to the station. However, after a year the government reneged on the agreement by failing to grant a broadcasting license or a provisional authorization. In 2007, the Open Society Justice Initiative requested a reopening of communication procedure and a full review of the case by the African Commission on Human and Peoples' Rights. It also asked the Commission to have Cameroon grant a provisional order allowing the station to broadcast while the complaint was pending.
The petitioners argued that there were three different violations of human rights. They first argued for freedom of expression. The initial claim states that Cameroon has a state-run monopoly over broadcasting in direct violation of Article 9 for the African Charter of Human and People's Rights. Their second claim states that the state deprived the station of their right to property under Article 14 of the Charter by taking the equipment. Lastly, they argue that the state violated Article 2 of the Charter, which states one's right of freedom of expression "without discrimination of political or other opinion," by refusing to grant the license.
The African Commission on Human and Peoples' Rights declared that such an arbitrary denial lead to a restraint of legitimate communication, drawing on the Declaration of Principles on Freedom and Expression in Africa. Under the Human Rights Committee General Comment number 34 the Commission stated that an independent regulatory body must be in place and that Cameroon violated this by failing to have an independent organization that oversaw issues of freedom of expression.
The Commission found that the government violated the radio station's right to property and ordered the government to pay for the property taken, the rent of the station, the cost of installing the equipment, legal fees, and loss of earnings since 2003. The state has also been ordered to pay for the moral damages against the former owner of the station.
Cameroon will have 180 days to comply with the Commission's ruling.
For further information, please see:
International Justice Resource Center – Africa Commission Finds Violations in Cameroon's Denial of Broadcasting License –  26 Sept. 2019
African Commission on Human and Peoples' Rights – Open Society Justice Initiative (on behalf of Pius Njawe Noumeni) v. the Republic of Cameroon – 18 Sept. 2019
Open Society Justice Initiative – Freedom FM v. Cameroon – Nov. 2016