By: Hannah Gabbard
Impunity Watch Reporter, Africa
ARUSHA, Tanzania – On May 11, 2018, the African Court of Human and Peoples' Rights (AfCHPR) dismissed Chrysanthe Rutabingwa's claim against the government of Rwanda as invalid.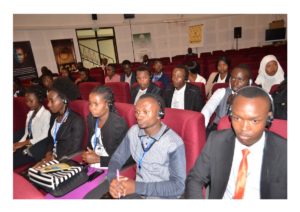 In 2001, Rutabingwa was fired from his position as an Audit and Evaluations Expert at the Ministry of Finance for allegedly disclosing confidential documents. Rutabingwa claimed that his dismissal was unfair and unconstitutional. In particular, Rutabingwa claimed that the Republic of Rwanda, for failing to solve Rutabingwa's unemployment, violated his right to equality and equal protection, right to be heard, right of access to public services, right to work in equitable conditions and right to equal pay, and right to enjoy favorable work conditions.
Rutabingwa appealed to AfCHPR on November 10, 2014 against the Republic of Rwanda. He sought reimbursement of salaries dating back to 2001, government provided housing, reinstatement of public service employment, and $1,000,000 U.S. dollars for damages and humiliation.
In Rwanda, Rutabingwa filed in a court of first instance. Following their judgement, the High Court dismissed Rutabingwa's claim. Rutabingwa never appealed to Rwanda's highest court, the Supreme Court. AfCHPR dismissed Rutabingwa's case for failing to exhaust local remedies in Rwanda before appealing to AfCHPR in Tanzania.
AfCHPR has ruled on four cases against the Rwandan government. As Rwanda's withdrawal from the declaration that provides the court with jurisdiction took effect in 2017, AfCHPR can only proceed with cases filed prior to 2017.
For further information, please see:
African Union – Chrysanthe Rutabingwa vs. Republic of Rwanda Order – 11 May 2018
African Union – Chrysanthe Rutabingwa vs. Republic of Rwanda Judgement – 11 May 2018
The East African – Rwanda government wins longstanding court feud with sacked employee – 16 May 2018