By: Jordan Broadbent
Impunity Watch Staff Writer 
BAMAKO, Mali — In March 2018, the African Court on Human and Peoples' Rights issued a ruling striking down Mali's Family Code affirming their commitment to advancing women's rights.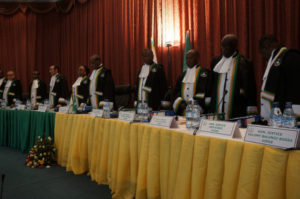 The Association for the Advancement and Defense of Women's Rights, a Malian organization dedication to the fight for equal rights, along with the Institute for Human Rights and Development in Africa, brought the Mali government to court over the implementation of the Family Code. The Applicants stated that the Code violated the African Charter on Human and Peoples' Rights, to which Mali became a party in 1986.
The Family Code implemented several harsh laws including lowering the minimum age of marriage to 16 for females, or 15 with the consent of their fathers. The law does not require ministers to obtain consent from both parties, rather just the husband. Nor do both parties need to be present at the ceremony for the marriage to take place. Additionally, the Family Code implemented harsh inheritance laws where women could only receive half of the inheritance men in their family could receive. The applications claimed that implementations of these laws would violate Mali's obligation under the Maputo Protocol, which lays out fundamental rights for women.
The Maputo Protocol states that the age of marriage for both genders is 18, requires consent for marriage, and mandates equal inheritance laws for both genders in countries which have ratified the Protocol.
Mali argued that the Family Code reflected the social and religious reality within the country and that the flexibility within the law respects religious rules throughout the region. The Court rejected both of these arguments.
The Court adopted the Applicants stance that the Family Code policies laid out above violate Mali's responsibility under the Charter and thus, struck down the code. The Court's ruling marks the first time the Court has found that a country's statute constituted a violation of the Protocol on the Rights of Women, a major win for women's equality in Africa.
However, the Court also reached into a country in a major way because the legislation at issue concerned a country's social and cultural practices. This demonstrates the Court's willingness to construe a country's social practices in order to uphold human rights.
Since this decision, there has been little action by the Mali government to implement this ruling. The Islamic community within Mali has called to keep these laws intact, despite the Court's ruling. Their statement stated that the Muslim community will "take any action to save the country from danger." The government's reluctance to overturn the Family Code in compliance with the Court's ruling could stem from the current climate within the country.
For further information, please see:
Cambridge Core – APDF & IHRDA vs. Republic of Mali – 2 Jan. 2019
EJIL: Talk – African Court on Human and People's Rights Delivers Landmark Ruling on Women's Rights and the Rights of the Child in Mali – 27 July 2018
International Justice Resource Center – African Court Finds Mali's Family Laws Violates Human Rights Obligations – 29 May 2018
African Court on Human And Peoples' Rights – Judgement – 11 May 2018