By: Alessa Rodriguez
Impunity Watch Staff Writer
RUSSIA – The European Court for Human Rights recently found that those who wanted to sue in their court for a discriminatory ban on holding LGBT public assemblies against Russia would have no redress for the alleged violation and ultimately their applications are denied. Article 11 of the Convention finds that everyone has the right to freedom of peaceful assembly and that no restrictions shall be placed on the exercise of these rights. The only restrictions would be under the realm of national security, public safety, prevention of disorder or crime, protection of health and morals, or for the protection of the rights and freedoms for others.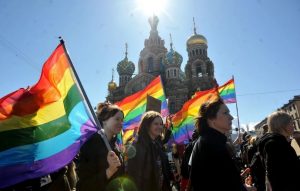 Even more recently, Russian lawmakers have approved a bill that expands restrictions on activities seen as promoting gay rights. There was previously a ban of "gay propaganda" against minors, this now expands it to those that reach the age of majority. The bill outlaws ads, media and online resources, films, and theater productions that contain the "propaganda". Violations are punishable by fines and can lead to expulsion from Russia. This bill will move into the upper chamber, expected to approve it, and then to Putin who is also expected to approve this.
The previous restrictions from 2013 were seen as a way to redeem Putin's image as a conservative and to distract from his persona. This time Putin is using the debate towards on LGBT issues to distract from his attacks on Ukraine. Deflecting the world issues at hand with Russia's invasion of Ukraine, he is fearmongering and weaponizing religion as why the "gay propaganda" should be restricted. This political strategy is effectively ruining his public image globally as he is pushing to invade another country and take away queer people's rights and freedoms. However, Putin's accomplishments are being celebrated by citizens as 50% of the nation expresses support for "mobilization", another term for his invasion of Ukraine.
The European Court of Human Rights should evaluate the expansion of Russia's previous "anti-gay" laws as it effectively leaves queer Russians or queer people entering Russia with troubling consequences, as there may be proper redress for this issue.
For further information please see: 
AP News – Russian Duma gives LGBTQ "propaganda" bill final approval – 24 Nov. 2022
ECHR – Recent Decisions – Aleksandrov and others v. Russia – 20 Oct. 2022
The Washington Post – Europe – Russia advances bill to criminalize "promoting" LGBTQ relationships – 24 Nov. 2022
Wilson Center – The Russia File – To Avoid Answering Hard Questions at Home, Putin Will Keep Fighting in Ukraine – 14 Nov. 2022