By: Nadia Abed & Melissa Berouty
3Ls at Syracuse University College of Law
Molly Coleman is a graduate of Harvard Law School. She is a co-founder of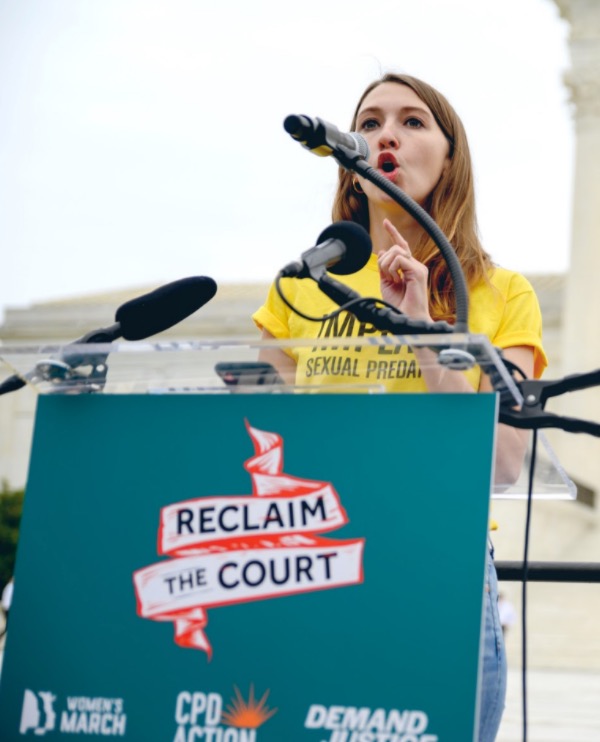 People's Parity Project ("PPP") and the first Executive Director. In law school, she worked for a number of legal organizations committed to advancing justice for the most marginalized, including Gender Justice, Legal Voice, the Mental Health Legal Advisors Committee, the Hennepin County Public Defender's Office, and the Fair Labor Division of the Massachusetts Attorney General's Office; she also served as Editor-in-Chief of the Harvard Civil Rights-Civil Liberties Law Review. Prior to law school, Molly spent three years with City Year New York, working to close the opportunity gap for students in Harlem and the Bronx and to empower young people to become civically engaged leaders. She is a graduate of the University of Wisconsin – Madison, and a native of Saint Paul, Minnesota.
Can you tell us about the PPP and how it got started?
COLEMAN: PPP is a National Nonprofit that organizes law students and new attorneys to unrig the law. We are focused on the role that lawyers and members of the legal profession have played in creating a civil legal system that serves corporate America and is stacked against consumers and workers. After a series of events during my 1L year, PPP got started. That year, we learned about Alex Kozinski's serial sexual harassment of his law clerks. We immediately saw the link between Kozinski's sexual harassment and Kozinski as the number one feeder of law clerks to Anthony Kennedy, who was the swing vote on the U.S. Supreme Court. At the time, I believe that Kennedy hired a ratio of law clerks that was 6 men to 1 woman. We quickly realized that maybe this is a problem for the entire country that women are being harassed out of the profession and stripped of the opportunity to influence our legal system at the highest level. A few months later, we found out that law firms were forcing workers including associates to sign forced arbitration clauses. As young law students, it became clear to us that sexual harassment, race-based discrimination, gender discrimination, and gender identity discrimination were rampant across the legal profession and were actively impacting the maintenance of the status quo in the legal system. People would then think of us as an organization that is focussed on sexual harassment, which is true we do care about sexual harassment. However, what we care about more are the ways in which our legal system enables sexual harassment and how this impacts workers and everyday people. We need to clean up our own house before we can worry about other people's houses. We need to fix what has gone wrong with the profession and the ways in which the profession has worked to advance corporate power before we can start organizing outside of it. 
Was PPP started by you and a group of peers seeing this issue in the legal system and believing there was a need for a change?
COLEMAN: PPP started outside of class. As I think a lot of organizing happens on law school campuses, you go to a lunch talk and you start talking about a particular issue. You then see who else is riled up and have follow up conversations. We started meeting and it became clear very quickly that there was a lot of energy for this type of organizing work. It also became clear that this focus on actively organizing and working to make a change is something that is not prevalent enough on law school campuses. As we started to do more at Harvard, we heard more from students at other law schools who wanted to do this work on their campuses. We started hearing from organizations who wanted to partner with us and wanted to know if there were similar organizing opportunities on a law school campus near them. We looked at our model and decided we wanted to expand. We now have 10 campus chapters and have continued to grow from there. 
What advice would you give to a law student who is interested in elevating a student organization to a national organization like PPP?
COLEMAN: I would definitely say to think long and hard about whether this is the right step or not. I will be honest, it is a lot of work and dealing with the organizational side of things means that you have less time and energy to put into the organizing. PPP did a landscape analysis and determined that there weren't any other organizations that were doing this work in the way we believed it needed to be done. We then knew we would be able to make a unique contribution. With that being said, if you make the decision that this is an organization that doesn't exist, doesn't have a close counterpart on the national level, and you want to keep growing it, I would say find some amazing champions and allies to serve as validators and a sounding board. Also, I think when you're doing organizing work there is a lot of forward momentum. This is especially true if you have a big mission like PPP. You could do a lot of work nonstop without ever thinking strategically. It's really important when you are taking that step from being a campus organization to a national organization to do some critical analysis, and see where you can be supportive to other organizations – think about where you want to invest your energy. It is so important to make space for that reflection. 
How do you feel like you were able to juggle all of this and be a law student?
COLEMAN: I think this enabled me to be a law student. The work 1L can feel soul-crushing, particularly if you came into law school to do justice work. It is easy to very quickly feel like you are not in the right place or your priorities are wrong. So for me, PPP served as an outlet and something that gave me faith that things could be better. It motivated me to want to learn the law as it is now, so I can start thinking about how I can change it. Emotionally, this is what allowed me to balance this. One thing that PPP has asked of organizers is to really reflect on whether they are able to make a significant time commitment. It means that you are going to be in meetings over lunch instead of in the library and that you are going to be juggling more emails than people who are not organizing on campus. For me, my co-founders, and other organizers, this made sense. We believed that this is the fight of our lives and this was absolutely worth putting time and energy into. For other people, they may want to focus on their classes, law review, or whatever else, and this is their theory of change. They hope that this will enable them to get the job that they want down the road and hopefully they will be able to do the justice work at that point. 
How has the managing and operating of PPP changed during the pandemic?
COLEMAN: A major consideration has been how to pivot to everything that is happening in the world right now and what does it mean to be in an organization of justice-oriented lawyers and law students who are now in a world that is completely different than it was six months ago. When we talk about legal culture and the way in which legal culture promulgates the status quo, you also have to think about the ways in which people will get very complacent. People may think "yes, the world is on fire, but I cannot change my organization's priorities and goals." For us at PPP, it was like nope, we need to totally rethink what we are doing. So this summer instead of focusing on whatever we would have done otherwise, we're going to put all of our time and energy into bringing people together in response to the pandemic, to support the uprisings, and to think about systemic lawyering in this new world. I think this level of flexibility has been extremely important to our ethos. It is something I am very grateful for right now, as we have had to make a lot of changes quickly.
Can you go into a little more depth about the changes and pivots PPP had to make this summer?
COLEMAN: By mid-march, we had launched our Rapid Response network. At the beginning of the pandemic, when it was clear that there were going to be massive needs within the legal community given the number of people who could no longer pay rent, questions surrounding what are the conditions under which workplaces are reopening, and how is worker safety being protected. The amount of issues and need were so clear right away. We started hearing from organizations that they needed additional support. We also heard from law students, who were saying we want to help and do something. We developed the Rapid Response Network that focuses on matching law students with organizations that we knew and trusted. Around the same time, the Systemic Justice Project started doing a series of conversations about learning in times of crisis and began putting on this really fantastic programming that brought together attorneys from around the country to talk to law students and to talk to other attorneys about what it looks like to respond to what we're seeing. We started talking about joining forces to build the Systems Summer Institute and thinking about how we can ensure that law students, who were losing jobs left and right, have the opportunity to do good work and develop their lawyering skills. We brought in Justice Catalyst, who is an incredible partner in all of this. We decided that on June 1st would bring in 250 people and have something prepared for them for the summer. It really was that the Systems Summer Institute grew out of these existing responses to the crisis rather than a pivot to focus on COVID-19 response. 
How can a law student run organization pivot their focus, particularly to issues that have been magnified by COVID-19?
COLEMAN: Early on in the pandemic, someone told me that there are always going to be people who try to capitalize on a crisis. Through most of American history, it's been the "bad guys" who have most successfully capitalized. We're in a moment where there's huge potential for the "good guys" to do that. There is so much energy because everybody is seeing how stark the inequities are. People are seeing how broken and rigged our system is. I hate to use the word broken because our system was created to be this way. However, today, people are seeing how dire the consequences of that rigging are. I think there is this huge energy around effecting change right now. We also have this incredible opportunity because so many people, who are in law school, are now motivated by the ways in which lawyers stood up to the Trump Administration, stood up for justice, stood up for the rights of immigrants, and stood up for the rights of religious minorities in the USA. We have this generation of law students who used this as their driving force for coming to law school. I think you then come into law school, which is designed to make people complacent in the face of inequity and some of this energy drops off. This crisis has renewed the energy. People are getting back to their roots and thinking I came to law school because I wanted to make the world better and maybe for a little bit I got swayed because making money is really awesome especially when you have a significant amount of debt, but no! There's no time to waste, the world is burning, we need to get to work on it. I think now is the time to be building coalitions and having conversations. From there, you can determine where there is work that can be done together, consider whether we develop a set of organizational priorities across progressive groups on campus for the year, or do we set our own priorities but commit to supporting each other over the course of the year because we see that we really are all in this together. I think that building coalitions and bringing the table together is key. So often in progressive spaces, we don't even all sit down at the same table so we are not having those conversations with people who are natural allies. You then are not talking about how to build a strategy together. You're not talking about where do you lead, where do we lead, and where do we step back. Right now, there is the chance to have those conversations and to really bring people together to create a shared vision of what comprehensive and deep change will look like.
How can law students get involved with PPP on their own campuses or just in general?
COLEMAN: We are always accepting new chapters, so if people are interested in working to unrig the law we want to work with you. You can email me (molly@peoplesparity.org), sign up for our email list, or check out our website (peoplesparity.org). Additionally, we have a network of students who aren't organizing in a formal PPP chapter, but who are organizing campaigns and circulating petitions on their campus standing up against universities having corporate immunity. There are numerous ways to get involved in this fight. It's a massive effort and it's only getting bigger, so consider starting a PPP chapter, we would love to talk to you about that, and if you don't want to start a chapter let's talk about how you as an individual can get involved. 
This interview has been condensed and edited for length and clarity.