By: George Rose
Journal of Global Rights and Organizations, Associate Articles Editor
STRASBOURG, France — On May 17, 2013, members of the LGBT community in Georgia planned and obtained permits to hold a vigil on the steps of parliament on International Day Against Homophobia. Many former Soviet countries still have laws outlawing homosexuality, with Georgia legalizing same sex marriage in 2015. While the LGBT community was planning their vigil, members of the Orthodox Church began planning a counter demonstration, citing this as a spread of "homosexual propaganda".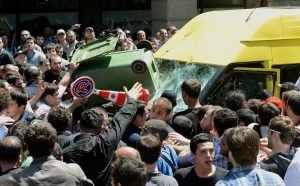 While a peaceful counterdemonstration may not have been a problem, peace was not the outcome at the demonstration. Once the members of the Orthodox Church's counterdemonstration arrived, they quickly overrode the police barriers erected around the parliament building. The Orthodox protesters became violent, videos show priests brandishing various weapons, going as far as using stools from bars and shops, shouting "kill them". One LGBT demonstrator remarked that she had been assaulted by members of the Orthodox Church, she recalled seeing blood on the ground and was unsure if it was hers or not. After the violence broke out, the police loaded the LGBT demonstrators onto a minibus, however, the members from the Orthodox church smashed through the windows to attack those on board. In the aftermath of the attack, eight members of the LGBT demonstration were hospitalized, as well as three police officers. Following the attack on the LGBT demonstrators, Georgia's Prime Minister, Bidzina Ivanishvili vowed that those who promoted the violence would be punished. However, the LGBT rights groups are still waiting for proof that the government has held those who promoted violence, accountable.
In a case brought against Georgia in the European Court of Human Rights, the court ruled that Georgia had been complacent by failing to properly protect the LGBT groups. The court reasoned that the use of police officers who were unarmed, thus protecting the demonstrators with a thin line of police officers, was not adequate protection. Further, the court found that in video footage, several officers allowed the violent members of the Orthodox Church within reaching distance of the LGBT demonstrators.
The court ordered Georgia to pay €193,500 to the applicants, with €10,000 reserved to an applicant who had suffered a concussion, and €6,000 for an applicant who had been humiliated by police officers.
For further information, please see:
The European Court of Human Rights – Press Release: Unprecedented Violence against LGBT Demonstrators
The New Yorker – What Was Behind Georgia's Anti-Gay Rally? – 23 May 2013
The New York Times – Crowd Led by Priests Attacks Gay Rights Marchers in Georgia – 17 May 2013
NPR – Anti-Gay Riot in Tblisi Tests Balance Between Church, State – 30 Jul. 2013