By: Tina Perez
Journal of Global Rights and Organizations, Associate Articles Editor
STRASBOURG, France — The European Court of Human Rights (ECHR) found that Georgia discriminated against, mistreated, and used excessive force against four Muslim men who were arrested for protesting a decision of Adigeni Municipality (the local government) to renovate a former mosque in the Village of Mokhe into a library. In Mikeladze v. Georgia, police alleged that the four men were resisting arrest at a protest on October 22, 2014 and sustained injuries while resisting. The four men complained that police verbally and physically assaulted them during and following their arrests. The men claimed, with several witnesses also reporting, that the authorities acted with discrimination because the officials used degrading racial slurs. ECHR awarded damages of 3,900 euros to the man who was the most severely injured and 1,800 euros to each remaining man.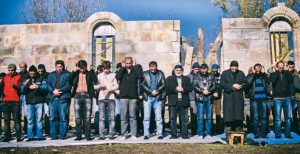 The ECHR's findings in this matter include that the injuries reported were not consistent with resisting arrest because one of the protestors was injured but no police were injured. Additionally, the report of the man's injuries was not an adequate investigation because it did not investigate the origin of his injuries.
ECHR also found that the four men did not need to pursue all available remedies within Georgia if those remedies were ineffective. The men made official complaints related to physical and verbal abuse they received but Georgia conducted no official investigation. Georgia instead claimed that the criminal investigation against the men was sufficient to uncover and address their mistreatment. This matter was brought to ECHR and ECHR found that the state criminal investigation was not sufficient because it was not independently conducted. ECHR further noted that the criminal investigation of the men failed to make any inquiry into the racial slurs used against them. Additionally, in the seven years since the incident the internal investigation had made no conclusive findings.
This matter grabbed the attention of human rights organizations because Muslims are a religious minority within Georgia.  Although the majority of the population of the Village of Mokhe is Muslim, the local officials are not and discrimination against Muslims in the region goes back decades.  The disputed building was constructed as a mosque between 1927-34 but in the 1940s, Joseph Stalin expelled Muslims from the region. From the 1940's until 2007 when Adigeni Municipality took ownership of the building, it was used first as a warehouse and later as a village club.  However, the Orthodox Church of Georgia also asserted ownership over the building claiming that a church stood on the location during the sixteenth century. Following the protest, the Muslim community of Mokhe continued to pray inside the ruins of the building until October 2016 when the building was blocked off with yellow police tape. An official commission was created to determine the origins of the ruin and in May 2017, the commission determined that the building "couldn't be attributed to either" religion. The ruins have been declared a cultural heritage site named "Disputed Building."
For further information, please see:  
Agenda.ge – European Court finds Georgia guilty of discrimination against four Georgian Muslims – 17 Nov. 2021
European Court of Human Rights – Forthcoming Judgments and Decisions – 10 Nov. 2021
European Court of Human Rights- Judgment, Case of Mikeladze and Others v. Georgia – 16 Nov. 2021
OC Media – Mokhe's 'Disputed Building' to be Sealed off for Conservation – 14 Sept. 2017
Tolerance and Diversity Institute – Analysis of Recent Occurrences in Mokhe Village – 3 Nov. 2014