By Alexis Eka
Impunity Watch News Staff Writer
On Thursday, October 16, 2021, the head of Nigeria's armed forces, Military Commander and Chief of Defense, General Lucky Irabor announced that a key figure in the West African terrorist group, Abu Musab al-Barnawi, had passed away. Al-Barnawi was said to be the son of Boko Haram's late founder Mohammed Yusuf.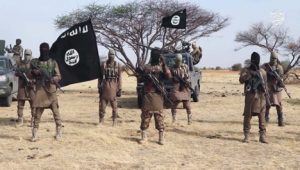 Islamic State West Africa Provenience ("ISWAP") has been regarded as the most prominent jihadist group in Nigeria since the death of Boko Haram leader, Abubakar Shekau that occurred earlier this year. After Shekau's father died in law enforcement's custody, Shekau was appointed the group's new leader. And after, Shekau's death, Barnawi was said to be the leader of the ISWAP. 
ISWAP is a splinter of Boko Haram, a terrorist group that has killed several thousands of people, kidnapped students, and added to the increasing homeless population in Nigeria. ISWAP has been fighting against the Nigerian armed forces for about 12 years. ISWAP has primarily focused on its attacks on the Nigerian military as opposed to Boko Haram who has terrorized several other groups. However, in Nigeria, the ISWAP insurgency group is still referred to as the "Mamman Nur Faction," a term coined by West Africans explaining that they are still under the control of Boko Haram.
The two militant groups have been at conflict with each other for several years, until ISWAP became Boko Haram's successor. The conflict between Boko Haram and ISWAP and the insurgents in Nigeria's armed forces has spread to neighboring countries, Cameroon and Chad, and has left about 300,000 people dead and millions of Nigerian citizens injured.
Ibrahim Awami, an individual who was kidnapped by ISWAP in 2016 and forced to join the ISWAP insurgency, said that "the death of Shekau will not be the end of insurgency in the Northeastern region." Awami escaped from the ISWAP insurgency less than a month ago and indicated that there are several Shekaus that are still seeking to abduct other west Africans and enlist them into the ISWAP insurgency. ISWAP stated that often, there are fights that break out for power between the ISWAP members, sometimes resulting in their deaths.
For more information, please see:
AP News – Nigerian Military says Leader of IS-Linked Group is Dead – 14 Oct. 2021. 
BBC News – Nigeria Says ISWAP Leader Abu Musab al-Barnawi is Dead – 14 Oct. 2021.
New York Times – Leader of West African Terrorist group is Dead, Nigerian Army Says – 14 Oct. 2021. 
Reuters – Nigerian General Says Leader of Islamic State West Africa is Dead – 14 Oct. 2021.