By: Hannah Gabbard
Impunity Watch Reporter, Africa
BANGUI, Central African Republic – On February 2nd, the Central African Republic government and 14 armed groups signed a peace deal to end the conflict that began in 2013.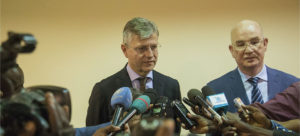 In 2013, Muslim Seleka rebel groups seized Central African Republic capital Bangui. Rebel groups and the government began fighting over control of lands with valuable resources such as gold and diamonds. Since 2013, the fighting targeted civilians, health facilities, schools, religious centers, and camps for internally displaced peoples. Thousands have been killed in the fighting in addition to the one million internally displaced and over one half million who have fled Central African Republic.
A UN report previously identified a high risk for genocide in the Central African Republic. As a result of the conflict, two Central African citizens have been sent to the International Criminal Court (ICC) to stand trial for war crimes. The ICC prosecutor has alleged crimes committed by both Muslim Seleka and Christian anti-balaka forces. These crimes include both war crimes and crimes against humanity.
The peace negotiations were organized by the UN and the African Union directed African Initiative for Peace and Reconciliation in the Central African Republic.
The UN Office for the Coordination of Humanitarian Affairs (OCHA) announced that more than 63 percent of the country will require humanitarian assistance. UN Under-Secretary-General for Peace Operations Jean-Pierre Lacroix called on UN member states to assist with the implementation of the peace agreement.
For further information, please see:
BBC – Central African Republic agrees peace deal with rebel groups – 2 February 2019
New York Times – Central African Republic Armed Groups Reach Peace Deal – 2 February 2019
UN News – UN calls for support to implement Central Africa's newly minted peace agreement – 2 February 2019
UN News – 'Everyone must be on board' for peace in Central African Republic: UN's Lacroix – 10 January 2019