By: William Krueger
Impunity Watch Staff Writer
ARUSHA, Tanzania – On October 1st, 2002 Christopher Jones and Erasto Samson were alleged to have stolen valuables from Habibu Saidi and assaulted him with a machete strike to the face. Jones was a second-hand clothes street trader in Dar es Salaam, Tanzania.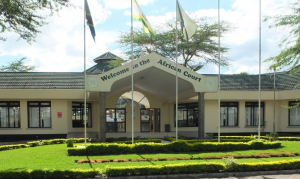 After a trial in the Morogoro District Court, Jones and Samson were found guilty of the charges on February 13th, 2004, and were both sentenced to thirty years in prison and twelve cane strokes, a form of corporal punishment. Jones had filed appeals for his conviction to the High Court of Tanzania on February 26th, 2004 but was dismissed. Jones then filed with the Court of Appeal of Tanzania on September 21st, 2005. The Court of Appeal of Tanzania responded on March 27th, 2009 by amending his sentence to remove the twelve cane strokes but otherwise denying action on his thirty-year term of imprisonment.
Jones had alleged to the African Court on Human and Peoples' Rights in an application received by the Court on May 11th, 2015 that he was wrongly convicted of the offense against Habibu Saidi as the victim incorrectly identified some of the stolen items. Jones argued that the applied sentence was incorrect because the statute used in his conviction was amended in 2004 to allow a sentence of thirty years. Finally, Jones alleged that the United Republic of Tanzania failed to provide him with counsel or any form of legal assistance as promised under the 1977 Constitution of the United Republic of Tanzania. For the injustices Jones alleges to have suffered he asks for his guilty verdict to be reversed, to be immediately released from prison, and to issue Tanzania to pay an order of reparations.
Tanzania's response to the Court states that Jones has not invoked the jurisdiction of the court and should be dismissed. Tanzania goes further and says that even if jurisdiction was invoked then Jones' complaint should be dismissed for being inadmissible under Rules of the Court and that the Court itself has no jurisdiction to compel Tanzania to release Jones from prison via order. Tanzania asks for the Court to find that its treatment of Jones did not violate the African Charter on Human and Peoples' Rights and the 1977 Constitution of the United Republic of Tanzania. Tanzania also requests that the court find Jones' sentence to not be excessive or discriminatory.
In the final judgment of the case by the Court, it found that Jones was not wrongly convicted as there was testimony by multiple witnesses beyond Habibu Saidi and he was apprehended on the scene of the robbery by authorities. On the allegation that Jones was not provided legal assistance by Tanzania, the Court found that Jones was never offered legal aide and thus Tanzania had violated Article 1 and 7 (1) (c) of the Charter. The Court ruled that Jones' thirty-year sentence for armed robbery was correct as Tanzania had allowed a minimum sentence of thirty years for armed robbery since 1994. The Court ruled that Jones would be able to seek reparations for the failure of Tanzania to provide him with legal assistance.
On September 25th, 2020 the Court released its ruling on the reparations for Jones. Jones was not ordered to be set free as his conviction was found to be just by the Court. The only reparation to be granted to Jones was 300,000 Tanzanian Shillings for not being granted legal aid by Tanzanian authorities.  
For further information, please see:
African Court on Human and Peoples' Rights – Judgment (Reparations) – 25 Sept. 2020
African Court on Human and Peoples' Rights – Judgment Summary – 25 Sept. 2020
African Court on Human and Peoples' Rights – Judgment – 28 Sept. 2017