By: Sallie Moppert
Journal of Global Rights and Organizations, Associate Articles Editor
SAN JOSE, Costa Rica — In a judgment handed down by the Inter-American Court of Human Rights, IACHR, Mexico was deemed to be internationally responsible for the failures of the investigation into the death of human rights activist Digna Ochoa y Plácido in October of 2001. The court determined that the "serious shortcomings" of the investigation into Ochoa's death constituted a violation of the obligation to guarantee to the right of life for Ochoa in addition to a violation of the right to the truth on behalf of Ochoa's family.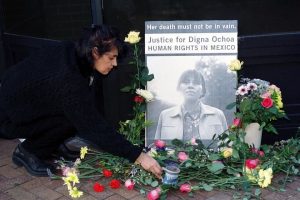 Ochoa was a human rights lawyer and activist in Mexico. Prior to her death, she endured many threats and attacks against her in response to her human rights defense work. With the continued threats to her safety, Ochoa, with support and accompanied by the Center for Justice and International Law (CEJIL) and la Red de Organismos Civiles de Derechos Humanos, came before the IACHR in 1999 to obtain preventative measures and later provisional measures to combat the continued threats and attacks. The protective measures were granted and in place for two years before IACHR terminated the provisional measures in 2001. Ochoa was assassinated two months after the protective measures were lifted.
The IACHR ruled that the investigation into Ochoa's death was biased and corrupted from its inception. Although her body was found to have multiple gunshot wounds, Mexican officials determined that Ochoa's death was a suicide, so the investigation was halted and the case deemed to be closed. In addition, the IACHR found that there was little equal protection under the law for Ochoa and females in general, as gender stereotypes were relied upon and intimate and personal aspects of Ochoa's life were used against her to question her credibility. "[A]s a result of the deficient investigation and the discourse of state agents aimed at insulting her public image, the defender's right to honor and dignity was also prejudiced," the court found. The court also found that Mexican officials had failures in its handling of the crime scene, its documentation and the forensic autopsy, along with not investigating the facts within a reasonable time frame.
Along with its judgment, the IACHR ordered Mexico to take several measures of reparation, with the main order being to continue the necessary investigations to determine the circumstances surrounding Ochoa's death. Other reparations included: making a public act of acknowledgment of international responsibility, creating an award for the defense of human rights that is to be named after Ochoa, and creating and then implementing a specific and specialized protocol for the investigation into attacks of human rights activists at a federal level, among others.
For further information, please see:
Center for Justice and International Law – Cejil 30 Years: Digna Ochoa
Inter-American Court of Human Rights – Judgment of the Inter-American Court in the Case of Digna Ochoa and relatives v. Mexico: The State is responsible for the serious failures in the investigation of the death of human rights defender Digna Ochoa – Jan. 19, 2022
Reforma – Llevan a Corte IDH caso de Digna Ochoa – Feb. 18, 2020
Author:
Christian Gonzalez