By: Mujtaba Ali Tirmizey
Impunity Watch Staff Writer
BERLIN, Germany – On October 3, 2019, the European Court of Human Rights ("ECHR") held that denying the Holocaust happened is not protected expression under Article 10.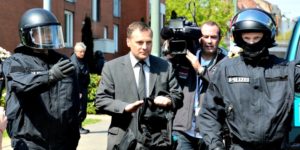 On January 28, 2010, the day after Holocaust Remembrance Day, Udo Pastörs, a far-right politician, a member of Parliament and chairperson of the National Democratic Party ("NDP") of Germany at the time, delivered a speech in which he declared that commemorations of the Holocaust were "theater" and claimed that "the so-called Holocaust is being used for political and commercial purposes." In August 2012, he was convicted by the district court for violating the memory of the dead and intentional defamation of the Jewish people. Subsequently, his appeals to the regional court, the Court of Appeals and the Federal Constitutional Court were also rejected. After exhausting all his remedies in Germany, Pastörs filed a complaint with the ECHR in 2014.
The Court firmly rejected Pastörs' claim that his statements were protected under Article 10 of the Convention, which protects freedom of expression. The Court emphasized that Pastörs had planned his speech in advance and intentionally chose his words while denying the Holocaust, contradicting established historical facts, and exhibiting disdain to its victims. The Court further noted that while an interference with freedom of speech over statements made in a Parliament warranted close scrutiny, these specific statements deserved little protection, if any, given that they were at odds with the democratic values of the Convention. In addition, this case also had to be analyzed in the context of the special moral responsibility of States which had experienced Nazi horrors.
Ultimately, the Court held that Pastörs had deliberately stated lies in order to defame the Jewish people and the oppression they had endured. Therefore, the conviction by the domestic courts had been proportional to the goal pursued and was an essential decision in a democratic society.
Interestingly enough, Pastörs, who is a clockmaker by trade, had previously run into trouble with the German authorities as well. In 2010, he was convicted of treason for calling Turkish-German men "semen cannons" and for referring to Germany as a "Jew Republic." He also referred to famous American economist, Alan Greenspan, as a "hooknose."
The NDP was founded by the supporters of the former Hitler regime and has an extensive history of being rallying point for new generations of German Nazis. The party has consistently failed in local and national elections and has been unable to make a significant impact in the European Parliament. If their chairperson had not been disciplined for his remarks in the Parliament, the NDP could have gained some momentum. However, the ECHR and the domestic courts correctly determined that the freedom of expression defense was ill-founded in this scenario.
For further information, please see:
The Algemeiner – Denying Holocaust is not a Human Right, Eu Court Determines in Ruling Against German Neo-Nazi – 4 Oct. 2019
Courthouse News Service – Court Rules Holocaust Denial Not Protected by Rights Law – 3 Oct. 2019
European Court of Human Rights – Holocaust Denial is not Protected by the European Convention on Human Rights – 2 Oct. 2019
European Court of Human Rights – Pastörs v. Germany – Oct. 2019