By: Kanalya Arivalagan
Journal of Global Rights and Organizations, Associate Articles Editor
KASHMIR, India – In Kashmir, there was an increased surge in domestic violence due to the shutdown. This shutdown, however, was caused by India revoking its semi-autonomous status in August 2019.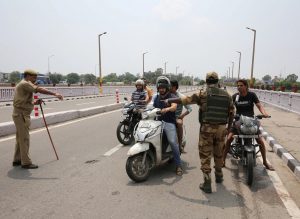 The former state of Jammu and Kashmir is a region of land that was divided unevenly between India and Pakistan, with India receiving the larger portion. It is also the biggest Muslim-majority state in India in which it had its special status of semi-autonomy under Article 370 of the Constitution of India since 1947. However, after the revocation, India placed its federal forces in parts of Kashmir, installed a communications blockade, cut access to public transportation, and closed markets.
During the 2016 and 2017's shutdown, there was more than 3,000 domestic violence in addition to general violence against women per year. Now, in 2020, the Kashmiri women are in the middle of both a global pandemic and a military lockdown from India without any resource available to help guide them during this time.
The total internet blackout along with lack of communication access caused confusion, which continued to worsen as India's security forces came into the region. The women's commission for domestic violence became defunct in the past three years resulting in no proper resource for women facing such violence. In the entire Kashmir valley, there is only one women's police station and the male's police stations are not trained to be able to work with domestic violence victims. Furthermore, even if the women come to the male officers for help, they often dismiss it as a family matter.
Furthermore, Shah Faisal, state director of the Human Rights Law Network, stated that these women also lack access to medical help because "many out-patient departments in public and private hospitals have closed" due to Kashmir losing its special status. Now, amidst the COVID-19 global pandemic, it is ill-advised to go to the hospital because of the possibility of getting infected.
For example, one of the many women facing domestic violence under these especially frightful circumstances is Rafiqa, 39, who had to turn to a local religious leader to seek the help she needs. Her husband beat her, abused her, and this violent abuse became much worse after he lost his job last year in 2019. Due to the shutdown and the lack of access to internet/mobile lines, Rafiqa couldn't even reach her parents for help. Similarly, another survivor, Sameena, 29, suffered harsh abuse that even resulted in rape by her husband. Such series of abuse was so horrific that she ended up suffering a miscarriage due to the severe violence. She could only turn to her parents for support.
It should be noted this pain might be eased by the decision of the high court of Jammu and Kashmir in April 2020 which directed the lower courts to treat the matter of domestic violence as an urgent issue. However, with the lockdown and lack of access to the internet as well as the mobile and landlines, India's actions are a violation of human rights for the citizens of Jammu and Kashmir. As Mr. Mehak, a journalist, penned, "[e]ach individual has the right to life and as such no instance of domestic or any other sort of violence with any person discrete of gender, social group or any other classification is insupportable and intolerable."
For further information, please see:
The New York Times – India Revokes Kashmir's Special Status, Raising Fears of Unrest – 05 Aug. 2019.
The New Humanitarian – Nowhere to Turn for Women Facing Violence in Kashmir – 09 Jul. 2020.
Deccan Herald – Coronavirus Lockdown Leads to Spurt in Domestic Violence Cases in Kashmir – 23 Apr. 2020.
Greater Kashmir – Spike in Domestic Violence – 02 Sep. 2020.